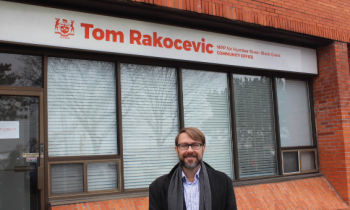 By Sean Delaney
Tom Rakocevic got involved in politics to improve his town. And he wants the public's help with that mission.
The newly elected member of the legislative assembly of Ontario for the Humber River-Black Creek constituency grew up in the area, went to local schools, got his post-secondary education at York University and pursued the very seat he won in October on three separate occasions, finally winning the seat in 2018.
"I never gave up on my community, and they never gave up on me," he said. "It's an incredible honour and privilege of being elected. It's still surreal sitting in the legislature and the speaker calls on you to speak, and hearing I have the opportunity to represent my community, it's an inexplicable feeling of joy and pride."
And he plans on representing the area in a number of ways.
Rakocevic was made the government and consumer services critic for the NDP and will represent Ontarians in the highs and lows of constituents purchasing relationships. He is also a continual advocate for reform to the auto insurance industry.
"In particular in this community the postal code discrimination we face," he said.
He's been on the issue of reform for years, through research and paper writing. Now, he's hoping to effect change through his government position. Rakocevic explain that auto insurance companies charge consumers in this community and in places like Brampton and Scarborough based the address when these communities don't have the highest accident rates.
"The effect is working class families, seniors, people who cannot afford it, have to pay the most, and this is not fair."
He wants to see a flat rate across the GTA so those living in Rosedale, the Jane and Finch area, Downsview or Emery Village would pay the same.
He's also focused on the hot button issues in the area, including the ongoing transit discussions.
"I'm very open to making changes and improving the area, this is why I got involved in politics," he said. "I used bus transit for large portions of my life to get to my job. I'm now driving the streets, but I take the TTC time and again and am on the same buses and on the same streets as residents here."
He wants to do everything he can to improve the employment conditions for Emery's workers, commuters and residents and encouraged people to get in touch with Tom with their concerns or questions.
"I do welcome people to contact me for local issues even though I'm your MPP, and I would be happy to pass on those messages to relevant parties."
At the provincial level, however, he knows the issues he will be focused on are health, education and transportation from a larger perspective. And he's going to remain active as a voice on where the taxpayer money should be spent to better his community, he said.
"In a time when government is talking about tightening their purses, I have a great fear. I hear cuts to healthcare, I hear about cuts to education. When a government is speaking austerity and is focused on that, we will see the places hit hardest are places with working families and places with working class communities like ours. So one of the things I'm going to do is push back against them.
"We can't afford, if you're in a situation where you're facing a serious health issue, minutes in an ambulance ride could effect your life, access to a bed affects your life. So I'm going to continue to fight for that and push for the government to expand, and not just contract. But I am here to work with the community, and for us to determine priorities together."
Rakocevic can be reached at his constituency office at: 2300 Finch Ave W, Unit 38.
Alternatively you can phone him: (416) 743-7272
Or email him at: TRakocevic-CO@ndp.on.ca