By Sean Delaney
In 2020, Luxor Homes won the prestigious BILD award, honouring the finest custom home builders in the GTA.
The awards were created in 1999 to recognize the profession's innovation, quality of work, customer service, and industry leadership.
Thewas given to Luxor Home Corporation. Luxor Homes clients said the builder went above and beyond to provide excellent work and outstanding customer service. Luxor Home Corporation also won Best Custom Home Kitchen.
Hot on the heels of 2020, Luxor has started off 2021 by winning BILD's Best Family Owned-Custom Home Builder in Ontario.
General Manager of Luxor Homes Maria Pinto said the company has been excelling despite COVID-19.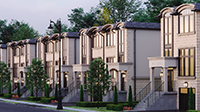 "We have been fortunate in that we have seven large development projects on the go, and luckily, residential construction has not been affected by any shutdowns - so we remain super busy. Locally in Emery, we have the construction of The Homes of St. Gaspar in full swing. We will be finished the roads in the next month or so and then on to the utilities. Sales of our custom semi-detached and townhomes have been brisk, with Phase one being sold out of its 42 homes. Phase two and its 31 units should hit the market in the next couple of months, so keep an eye out if you are interested."
Pinto said the Luxor sales office remains open but that an appointment to see a sales representative is needed.
Find Luxor online at:
You can visit them at, 128 Millwick Drive, or phone them at: 416-747-8746.
You can also email them at: info@theluxorgroup.ca