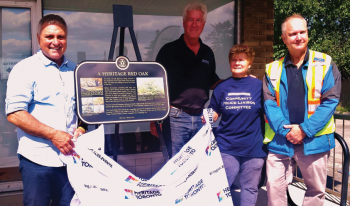 By Tim Lambrinos
It's now about a tree that has become more colourful than any other tree in all of Toronto.
It's the massive red oak of Coral Gable Drive – estimated to be between 250 and 350 years old.
The tree stands in the rear yard of a home built in the early 1960's. Prior to that, there was a small creek and accompanying forest near its base.
The red oak received official heritage recognition on Saturday Sept. 15 at the Woodview Park Library at Weston Road and Bradstock.
Approximately 200 people were in attendance to participate in the ceremony.
Dignitaries from Heritage Toronto unveiled the declaration while standing on the walkway in front of the library. The commemorative plaque recognizes this particular red oak tree as being one of the oldest trees currently living in the entire city of Toronto.
Robert Keen of Forests Ontario and Peter Wynnyczuk of Tree Canada conducted a portion of the official ceremony and unveiled the plaque. They were accompanied by the locally elected representative, councillor Anthony Perruzza.
Perruzza spoke of how in the past, cities have taken steps to unfortunately bury nature, all in the interest of progress. Perruzza reaffirmed his commitment to make constructive efforts to preserve nature when he can. Sarah Doucette, who had previously been an unofficial tree advocate for Toronto City Council, ventured up to the area as well and made an appearance at the ceremony.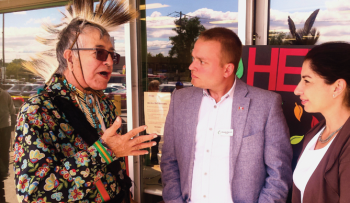 And two local school trustees were also in attendance, Ida LiPreti and Christopher Mammoliti.
As part of the official ceremony, Chief Stacey Laforme of the Mississaugas of the New Credit provided some words and included a short historic indigenous hymn.
The highlight of the ceremony was an acknowledgement to Edith George.
George has continued to steadfastly drive the agenda forward to recognize the tree at all levels of government. After the plaque unveiling, she led a short walk from the library over to the tree for anyone that wanted to take it in.
The crowd returned back to the library for some refreshments afterward.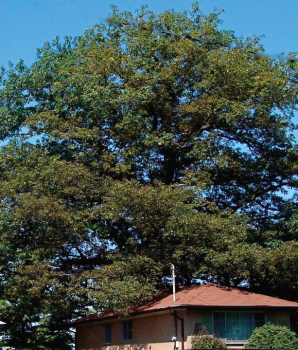 With this recent designation from Heritage Toronto, it should provide additional confidence to an upcoming decision at Toronto City Council whether to adopt the property as a public parkette and save the life of the tree.
This City's decision is expected to occur in the next month or two.
Stay tuned.