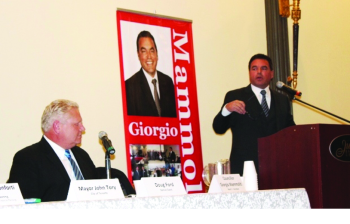 By Tim Lambrinos
Councillor Giorgio Mammoliti conducted a public meeting on Feb. 13 where the audience swelled out into the hallway of the Julius Banquet Hall at Finch and Arrow Road. More than 500 area residents packed the room for a property tax meeting designed to be an information session. The principal issue was that Toronto City Council was in the midst of proposing an increased rate for residential property tax.
Former city councillor and mayoral candidate, Doug Ford, was invited by Mammoliti to be a guest speaker at the meeting. A name placard and empty seat indicated that Mayor John Tory was unable to attend.
Earlier this month, Premier Kathleen Wynne had already said no to Mayor Tory's request to have tolls on both the Gardiner Expressway and the Don Valley Parkway.
The City of Toronto had requested permission from the Province to do so in an attempt to raise money. Premier Wynne has made it clear that she would not consent to such an endeavour by the city.
The meeting opened with a detailed presentation by municipal finance staff that included a power point presentation and a series of slides. The slides outlined financial pie charts and various graphs intending to justify how the city calculates annual rates of taxation. The slides detailed various options city staff had considered, factoring in current pressures on the budget.
Both Mammoliti and Ford were opposed to any proposed increase in taxation as echoed in their speeches.
To drive his point home, Councillor Mammoliti revealed that Mayor Tory may attempt to implement a possible roof tax and compound garbage taxes.
Mammoliti assured the audience that he was very opposed to any new categories of payment tactics on residents. Upon examination, the roof tax seems to be generally unscientific and a rather absurd design to consider.
Questions arose from the audience that showed a general disapproval of how Toronto City Council, through the Mayor, may decide to increase taxes. Mammoliti and Ford's responses to all questions met broad approval from the audience. Mammoliti recommended that, if necessary, the city could generate additional money from prospective billboard advertising signs. His conditional proposal could potentially be applied instead of increasing taxation on residential homes.
The plan could only occur if Toronto City Council would agree to increase the existing quantity of advertising signage allowed. One local senior citizen spoke most articulately and called upon the Mayor to be considerate of those on fixed incomes.
Unfortunately, the points that both Mammoliti and Ford made at the meeting were not endorsed by Toronto City Council. After the meeting, Toronto City Council approved of the Mayor's two per cent increase on residential property tax. What is most disappointing for homeowners may be impending surprise fees hidden within urban strategies now devised by the Mayor's office and city staff.
The meeting showed that Ward 7's residents are enthusiastic to be involved and stand up for what is right.
It was encouraging for many to see the local representative at, Councillor Mammoliti, continue to stand up for what they wanted.