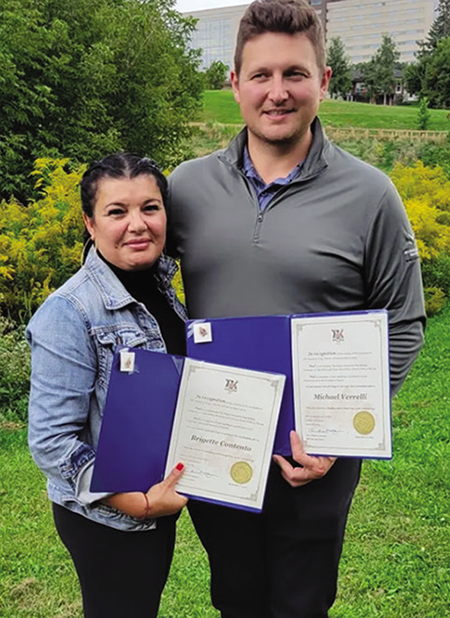 By Sean Delaney
In a recently held ceremony, two of Emery Village's most dedicated and diligent community members, Brigette Contento and Michael Verrelli, were awarded the coveted Coronation Pin. This honour, bestowed upon them by MPP for York Centre, the Honourable Michael S. Kerzner, recognizes their significant contributions and tireless efforts to uplift and better our community.
The Coronation Pin, a prestigious accolade, symbolizes more than just recognition. It's a testament to the undying spirit of community service, celebrating those individuals who go above and beyond to make a difference. And in Emery, Brigette and Michael are the embodiment of that spirit.
Brigette Contento, known for her extensive volunteer work with local Food Banks, has been a beacon of hope and change in the community. Her initiatives, which span from organizing local food drives with community partner Michael Verrelli, also look to create stronger bonds in the community with special events, such as Santa Claus parades, Easter Egg hunts and a recent butterfly release, all to foster positive changes in the neighbourhood.
In addition to his enormous efforts with food drives, Michael Verrelli has been instrumental in creating and maintaining local ice rinks in the Humber Lea community.
I have come to know Mike and Brigette over the years, and I would say that Brigette and Michael represent the best of Emery Village. Their dedication, passion, and the countless hours they've put into serving our community make them more than deserving of this honour. It's individuals like them who remind us of the importance of community service and the impact it can have. I say a heartfelt thank you to them and everyone who volunteers in our Emery community.