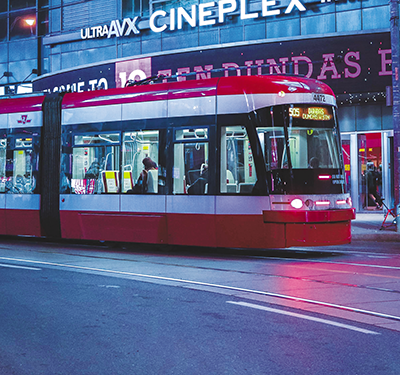 By Sean Delaney
Emery Village is a busy area with many daily commuters.
With Line 6 Finch West scheduled to open in late 2023, customers, including those in Emery Village, can expect more frequent, reliable service along the busy Finch West corridor.
The TTC is planning for the future, and, as part of its 2023 Annual Service Plan, will be making some changes in anticipation of the service expansion.
Over the summer, the TTC conducted a community engagement survey to gain a better understanding of people's travel habits, especially as they relate to the new Line 6.
In order to address customer needs and travel patterns, the TTC has developed the following proposals.
Please share your responses using the survey on page 12.
Changes in Emery Village
The Emery Village BIA will see two proposed changes to better connect employment areas to rapid transit once Line 6 has opened. The following changes will replace the 36D and 36F Finch West branches along Toryork Dr. and Fenmar Dr.
119B Torbarrie – A new, peak-period-only extension of the 119 Torbarrie route will operate via Arrow Rd., Finch Ave. W., and Fenmar Dr., and replace the 36F Finch West. This will also improve connections to Line 1, Line 6, and employment centres along Arrow Rd.
166 Toryork – A new route connecting Pioneer Village Station to Toryork Dr. via Steeles Ave. W., Islington Ave., and Millwick Dr. will replace the 36D Finch West and improve connections to Line 6 and Line 1.
Humberwood Study Area
Line 6 will replace many routes along Finch, including the 36 Finch West route and its associated branches (B, D, F). To accommodate the significant demand for transit service along Humberwood Blvd., the 36B Finch West branch will be replaced by the following three services:
906 Airport-Humber College Express – A new express route connecting Humberwood Blvd. and Humber College to Viscount Station at Pearson Airport will improve connections from North Etobicoke to Line 6, Pearson Airport, and the surrounding employment areas.
37A Islington – The 37A Islington route runs along Islington Ave. and Rexdale Blvd. The route, which currently ends at Humberwood Loop, will be extended to include Humber College. This will improve connections between Line 2 and Line 6 at Humber College, as commuters will be able to take one bus between the two. It will also maintain service capacity to meet ridership demand along Humberwood Blvd.
996 Wilson Express – The 996 Wilson Express route that runs between Humber College and Line 1 (at Wilson and York Mills stations) will extend to terminate at Humberwood Loop. This will ensure that capacity on Humberwood Blvd. is maintained, while also improving connections to Line 1.
Changes in York University Heights
The York University Heights neighbourhood will see two proposed changes that seek to improve connections and simplify transit in the area:
107 York University Heights – A revised routing of the 107 York University Heights that will operate between Sheppard West and Finch West stations via Chesswood Dr., Alness St., Steeles Ave. W., and Keele St. This proposed change aims to simplify the existing routing and improve transit service and connections to Line 1, Line 6, and the employment areas within.
101 Downsview Park – A revised and extended routing of the 101 Downsview Park that will connect Wilson Station to Finch West Station via Wilson Ave., Keele St., the Stanley Greene neighbourhood, Downsview Park, Downsview Park Station, and the DUKE Heights BIA. This proposed change aims to replace the 107 York University Heights route south of Finch West Station, provide GO train connections at Downsview Park Station, and better connect residential and employment areas to rapid transit.