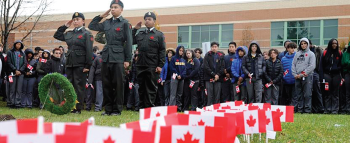 By Sean Delaney
A recent Canadian study suggested there is an increasing trend of younger generations taking part in Remembrance Day celebrations – including participation in ceremonies, such as the laying of wreaths, and the wearing of poppies. This is great news given that soon there may not be many, if any, persons still alive that served in the First World War. Schools are playing an ever increasing role with assisting and guiding students and creating unique ways to celebrate this special day.
Students at Toronto Catholic District School Board's St. Basil-the-Great College paid their respects at a special Remembrance Day service, on Thursday, Nov. 8.
The service commemorated 100 years since the armistice, marking the end of hostilities between allied and enemy forces in WW1.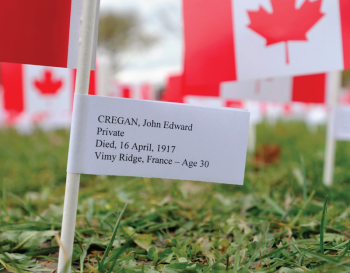 The tribute was part of the school's two student-led assemblies, which also included a wreath-laying ceremony that took place outdoors and the planting of 1,400 commemorative flags. Each flag had the name of a Canadian solider who was killed during the First World War, which ended 100 years ago on Nov. 11, 1918.
Many thanks go out to all of the students and faculty members that participated in this important celebration.