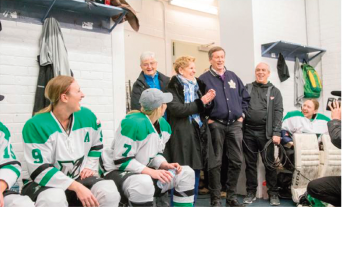 A big win for Emery's Kristen Richards and the Markham Thunder
The Emery Village Voice is sending congratulations to St. Simon and St. Basil the Great Catholic Secondary School alumnus Kristen Richards. Richards is a leading member of the Markham Thunder hockey team that captured the 2018 Clarkson Cup with an exciting 2-1 win in OT.
Richards and the Thunder brought the cup back to the Toronto area after beating the Kunlun Red Star hockey club, the women's hockey team based in Shenzhen, Guangdong, China.
Mayor John Tory and Premier Kathleen Wynne were on hand to congratulate the women's league champions.