By Sean Delaney
Kitchen24 is a one-of-a-kind company. And during the coronavirus pandemic, they are doing one-of-a-kind work.
A grand commercial kitchen that typically provides space for start-up companies through unique rental agreements, they have adapted to the coronavirus pandemic like many others. But instead of finding ways to give back to their business, they have found ways to give back to their community.
This October, they cooked and packed more than 5,000 meals and 2,700 pieces of clothing that they saw delivered to the vulnerable and needy throughout the GTA.
"On Thanksgiving Sunday we were cooking and packaging, and on Monday we had 30 vehicles that took meals and other items all over the GTA, feeding the homeless everywhere," said Kitchen24 owner Steve Kidron.
Does it sound like an overwhelming endeavour for a holiday weekend? Well, add in 2,700 pieces of donated clothing, more than 8,000 sweets and pastries, and a Thanksgiving dinner drive-thru – that's Kidron and Kitchen24.
Kidron knows what it is like to be hungry. He knows what it feels like to be unsure of where the next meal is coming from. When he first came to the big city, he came to it with very little.
A driven man, Kidron did not wallow in his struggles, but rose out of them. Years of hard work saw him grow within the food industry, and an idea he had a little more than four years ago has seen him develop a successful business that he is now using to feed others. It's full circle for Kidron, and something he is more than happy to work at and grow.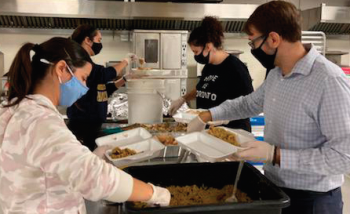 "It took me 11 months to put it together, close to four years ago," Kidron said of Kitchen24. "My background was in food. I was buying from major companies in North America and selling products to mom-and-pop shops basically. So when one of my mom-and-pop shops came to me and asked if they could use my facility to do some catering out of, because they didn't have a space of their own, I saw an opportunity."
Being in the food industry, Kidron knew there were a number of businesses and services that could use their own space but didn't have the capital in place to acquire or maintain it.
Kitchen24 is a 35,000 sq ft commercial kitchen with the capacity to cook more than 10,000 meals per day. It is operated by true lovers of food, and that passion has led to a space where like-minded culinary entrepreneurs can turn their dreams into reality.
In October, it became a Thanksgiving charity the likes of which the GTA has never seen, and now, Kidron wants that to continue.
"Our number one need is volunteers. Number two is we want any corporation or company, or even any private person to know, if they have any items, personal items they want to give away, toys, toothbrushes, combs, soap, shampoo, we will take it too.
"Any stock people want to donate, we will find a place for it."
As well, Kidron said anyone who wants to donate money to their cause, whether through the Kitchen24 website, or a GoFundMe page the company maintains, they will accept that as well.
They have a new goal for Christmas of setting a record for the city by giving away 10,000 meals during the holiday season. And in the spirit of the holiday, Kidron is going to take on other donations so that he and his volunteers can develop gift packages as well.
"We want to give presents too, and not just food," he said. "The unfortunate need anything for Christmas, and we want to be there for all of those needs."
If you know someone who requires support or would like to donate time to make meals at Kitchen24, you can access the intake forms here:
https://sites.google.com/view/kitchen24intake.
For daily updates, follow them on Instagram.
-----------
Kitchen24 is located at 100 Marmora Street, Unit 200, North York, ON
You can find them online at: www.kitchen24.ca
Their GoFundMe page is located here: http://ca.gofundme.com/f/helpkitchen24feedtoronto