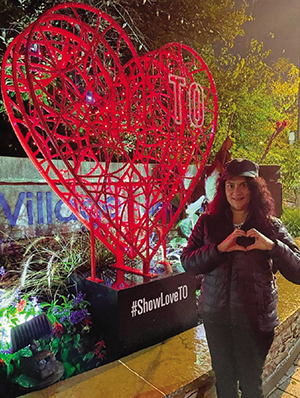 By Sean Delaney
Thank you to Kara for taking the time to submit such a fantastic photo for our ShowLoveTO contest. Kara won a gift certificate to her local restaurant of choice, and she chose Emery's very own Pannino Cappuccino on Weston Rd.
ShowLoveTO is a current initiative that encourages residents to show their love for Toronto by safely connecting with neighbours, supporting local businesses, and exploring their city neighbourhoods to help rebuild the social and economic fabric of Toronto.
The City's ShowLoveTO campaign saw the placing of lit-up red hearts with #ShowLoveTO on them all around Toronto. In Emery, you can find a large red heart at the Northeast corner of Sheppard Ave and Weston Rd. Between now and December 14, residents can take an excellent picture of themselves or with friends and email it to:
info@emeryvillagevoice.ca
You can also tag @emeryvillagebia with hashtags #cityofTO and #SLTO for a chance to win great prizes from local Emery businesses.