By Sean Delaney
Humber River – Black Creek MP Judy Sgro credited her staff and volunteers with helping her office aid constituents and businesses in 2021, by going above and beyond for their community.
"It's been a tremendous challenge to try to reach out to as many local people and businesses and connect them with the programs the government is offering," she said. "But more importantly to know what their issues were, so the government could efficiently and effectively help them."
Sgro said she is fortunate to have caring groups of people who understand and take the extra time to handle any problem.
"Because it tugs at your heart strings," she said. "People and businesses are struggling right now. When they call for answers, our job is to get them the answers. Sometimes it's not the best answer but our job is to get the answer."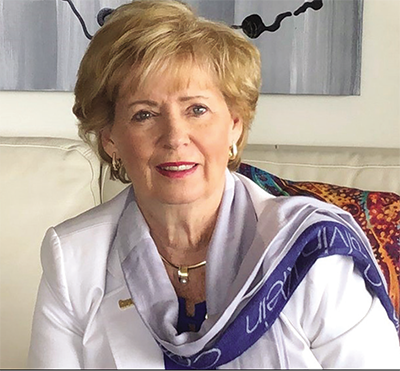 And Sgro said the government has been eager to produce effective answers for people. She credited legislation passed on Dec. 16 with producing aid specific to the travel and hospitality industries. Throughout the pandemic, she said, they had not been able to access supports, and she was proud to see the legislation passed.
"We have been very focused on sharing the information about what we have done, what we can do, and let's get through this together."
Sgro said she is seeing political lines not matter as well and is seeing a desire from people to simply interact with, and see productive work from, their government.
"A lot of the businesses are not glued to the television and the silly politics that is going on, they're just trying to survive," she said. "And so, when the government, no matter what government, brings in a different kind of policy or directive, they may not know much about it, and simply want to be informed on it."
She said the need for this communication has shown the value of the Emery Village BIA and its communication efforts with members in order to share information.
Looking ahead to the new year, Sgro is hoping that a pandemic fatigue won't take over, and she will see her constituents continue to support and help each other.
"I think it's been hard for people, but we will get through this together," she said. "Eighty percent of people in Canada are double vaccinated, we will get through this. My hope is that it will be a shorter turnaround, and if people just keep following the rules that are out there, maybe this will be behind us, and in the spring, we can focus on all the good things we're going to do."
On community heroics throughout 2021, Sgro said there are a number of community organizations in the riding that just pulled together like there is no tomorrow.
"People have really come together. Where they knew people need hot meals, the Jamaican Canadian Organization just started doing hot meals. That's one organization, but there are those examples all over," Sgro said. "I hope for good health for everyone. If you've got good health, you'll weather this and get through it, and I believe we'll all be better Canadians as a result of it.
"We'll appreciate each other more and realize how precious the good times are. Merry Christmas and best wishes to all of the readers."