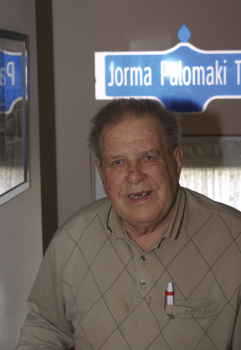 Community leader extraordinaire
By Sean Delaney
Jorma Palomaki is a community activist and leader extraordinaire!
After a short visit from Sudbury in the 50s, he's made Emery Village his home, and hasn't looked back.
"I spent a week here, met some friends, got a job and then got married here. And that was the end," he laughs.
Palomaki plied his trade in the typesetting room of a local printer working on the likes of Eaton's and Canadian Tire catalogues. But it's how he's contributed in his off time that is seeing him talked about. He's been a strong voice in a number of development applications, from opposing a series of high rises on Weston Road south of Sheppard Rd. to helping to shape the new development at Weston Road and Finch.
His first foray into public service was organizing community meetings – town halls and meets and greets – for local candidates. He's also put his party planning hat on for the 50th celebration thrown locally for Gulfstream school.
But he believes in and has always maintained an eye on the community and eventually got more hands on. His work in the Carmine Stefano Community Centre is his highlight.
A founding member of the recreation hub, he's proud to see it perform, and excited about what he sees in its future.
He credits the city for their involvement, and played a role himself on the group that saw it cleaned up and brought to what it is today. Looking ahead, he sees the leadership now bringing even bigger things.
"A lot of people don't know that our community centre is the most attended community centre in the city," he said. It's really done great for the community."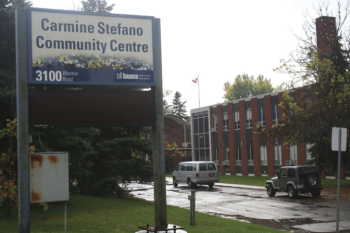 And now our new community centre "It's going to be beautiful!" when finished in a few years.
A fixture of Emery Village, Palomaki is getting compliments from some notable names. Ward 7 Councillor Giorgio Mammoliti weighed in on the man he called a champion and a leader.
"He has always advocated for the seniors in the community and their rights and they look to him for advice. Jorma was also the person who spearheaded the creation of the Carmine Stefano Community Centre because a new recreation space was needed in that area," Mammoliti said. "Jorma has been very effective at bringing about positive change in the community .The community is very grateful to Jorma for his caring and dedication to the Emery area for the past 50 years."
The local complaints, Palomaki said, are the same. People want a grocery store and less traffic, but change is coming.
He sees it with the new businesses investing locally which is a good thing.
"When I first moved here, the only grocery store was in Rexdale, the Dominion."
He sees the connectivity needed, the proper road structure for productive movement, and believes Emery will develop with those business leaders investing.
"Everything is close," he said. "Our kids went to York University, my work was 20 minutes away, wherever you need to go, there's a highway to it."
Married 57 years, all of them in Emery Village, he sums it up simply.
"Everything's worked out," he said. "I guess that's why I've never left.