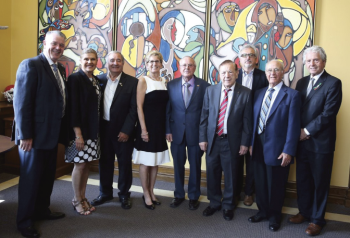 June 2nd was ilGiornodellaRepubblicaItaliana in the Province of Ontario. It is Italian Republic Day.
What better way to celebrate our great Italian heritage this year than to honour the committee that worked so hard to create the Italian Fallen Workers Memorial. (Some excerpts from the Hon. Kevin Daniel Flynn MPP- Minister of Labour) "The monument was constructed to rightly honour the tremendous sacrifice Italian Canadian workers have made in building this province that we all love and call home. These people deserve to be recognized. They should be recognized. They came to Canada, as did many other immigrants—they did and they still do—and they're simply looking for a better life. They were willing to do work that others would not. They were willing to do work that too often was very hazardous, but they were doing it in order to achieve a better life for themselves and for their families and children. The names on the memorial that was dedicated that day represent much more than a list of those who were lost. They were human beings. They were loved and they themselves loved. They hoped and they dreamed. They built our province's railways, they built our bridges, they worked in mines, they dug up our tunnels and they constructed the roadways we drive on today".
From the start of their immigration to Canada in the 19th century, often under very harsh conditions, to playing the predominant role that they do in the construction industry in the latter half of the 20th century, Italian Canadians have built this province with their sweat and with their spirit. They sacrificed for their families and too often they sacrificed their own lives due to unsafe working conditions.
If you know of someone of Italian decent that has lost their life on a job site, please visit the website at www.Italianfallenworkersmemorial.com