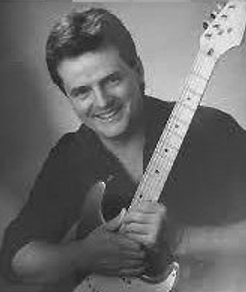 By Tim Lambrinos
There are musicians that develop their vocals or play instruments and are able to transcend local boundaries to reach their full talent. Many win awards nationally or internationally and others even become household names. And then there are some that simply fly under the radar. At one point or another in their musical careers, they've all been forced to make compromises while still maintaining their passion for their craft.
This month's story revolves around former Emery resident Bill Nadeau, and how he developed a music career while performing on the road.
Nadeau has primarily performed as a solo artist at various clubs, pubs, cruise ships or corporate affairs over the past 45 years.
He's done this while making a modest living off his music. But his passion and commitment toward music continues to be as high as ever.
Nadeau grew up on Habitant Drive in the Woodview Park area. As a youth, he attended St. Jude's Catholic school on Weston Road. He would stay at this school until Grade 8. After St. Jude's he decided to transfer to Emery Collegiate Institute for Grade 9. Even though he had already played the guitar for five years, he was unable to join the formidable Emery music program because of his lack of formal pre-requisites that were required to gain entry.
Instead, Nadeau languished in Mr. Kells' shop class, breaking many tools and at times endangering the lives of some of his other classmates.
Nadeau maintained a solid practice routine with his guitar and began to develop a blues-based, rock guitar style that was greatly influenced by his good friends, Jim and Rob Hodgins.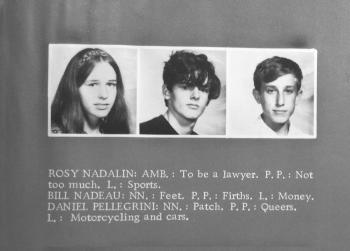 The Hodgins' house on Bradstock Road became a gathering spot for local teenagers as the brothers would somehow find the latest music as well as identifying some very obscure genres. Nadeau's time spent at the house allowed him to develop his own musical style that would serve him well down the road.
In his final year of study at Emery, Nadeau formed a band with two other local musicians, Wayne Catania and Wayne Brown. For the majority of the next five years, Nadeau performed with his two friends and, after finding a new singer in Chris Biden, managed to create the right formula to finally go on the road. Their band was named Sledge. They played at many clubs in Toronto such as The Piccadilly Tube, Larry's Hideaway and the group became a mainstay at The Yonge Station.
After Biden left the group at the end of 1978, Nadeau took over as lead vocals which resulted in a much lower profile than the band enjoyed with Biden at the helm. This unintended benefit was that they were able to develop extended musical growth while performing on the road. It also meant the group was finally offered gigs at medium sized bars all across Canada, exposing the members of the group to a better understanding of the different working class regions throughout the nation.
It was the comforting community hospitality that was most appreciated by the band along Canada's east coast in small towns like Miramichi, New Brunswick. These travelling tours became memorable life lessons for the band members.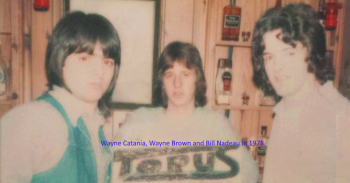 From 1984 to 1989, Nadeau played with another Emery musician named Mike Norris, in a band called Repeat Offenders.
Nadeau has maintained that this was the best original band that he ever performed with. Norris went on to win a California songwriting contest and was a great resource for Nadeau to understand how great songs are composed.
To further develop his songwriting skills, Nadeau enrolled in the prestigious Berkley School of Music and obtained his certificate in Commercial Songwriting. To this day Nadeau still writes and records songs, but so far, has not been able to release a commercially successful offering.
Beginning in 1984, Nadeau began to see the writing on the wall in regard to reaching his long-term life goals. He became aware that he was following a path toward a lifetime of touring with no chance of having a family or finding an alternative source of income.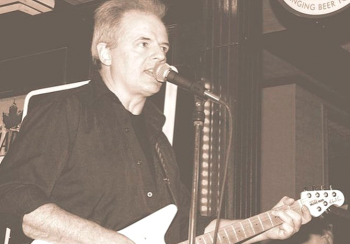 He decided to take a job with an industrial consulting company named Corvib. During this time, he continued to play with various bands at least three nights per week.
Nadeau did achieve success in business as an industrial technologist. Along with a partner, he bought out his bosses in 1988 and ran Corvib for the next 18 years. During this time, Nadeau played in bands like Repeat Offenders and started developing his own interest in using computers to generate background drums and bass in his compositions. This insight led him to using computers playing behind him, while he performed live. Using the moniker – Bill Nadeau & the 21st Century Binary Backup Band – Nadeau was greeted with immediate local success and put much more time into what he felt would be a way to maintain a solid presence in an otherwise diminishing local music scene.
This keen observation has allowed Nadeau to consistently play for audiences over the past 30 years.
He performs live on his guitar assisted by a back-up sound-track. He brings his own speakers and equipment all while creating a full entertainment package.
It's been an ideal offering for corporate events, private parties and condominium shows.
Today Nadeau is, for the first time in 30 years, playing in a regular spot in a band called The Freakin' Band.
The group is comprised of veteran musicians who thrill audiences every Wednesday at the Beacon Restaurant in Wasaga.
Each week they feature a special guest and many of them are some of the most formidable musicians in Canada.
Nadeau has been fortunate to continue to ply his trade in a very competitive industry. All this while still being able to dabble with his songwriting and recording.
He has shown himself to be a true survivor who has been dedicated to his music.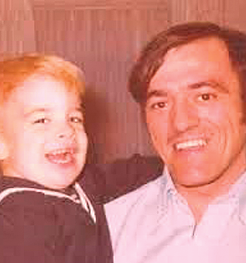 With COVID-19 in full swing, Nadeau's approach for musical performances at private weddings and other functions fits today's "social distancing" requirements perfectly. While Nadeau continues to perform his musical shows across the land, his love and dedication for the art remains as vibrant and fresh as ever.
If you would like to contact former Emery graduate, Bill Nadeau, for a private show of your own, you can send him an email at: info@billnadeau.com