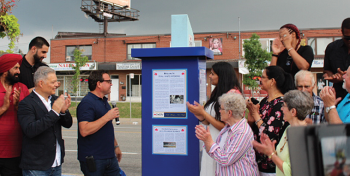 By Sean Delaney
The recent unveiling of the Italian Gardens Historical Marker was spearheaded by the Emery Village Business Improvement Association (BIA), and part of a celebration to mark the completion of a revitalization project in Humber Summit. The Historical Marker is located on the east side of Islington Avenue just south of Satterly Road at the bottom end of the Italian Gardens Plaza. This part of Humber Summit saw the installation of new sidewalks, modern LED lighting, comfortable benches for those that need a short rest as well as planters brimming to the top with colourful plants and flowers all courtesy of local businesses – members of the BIA. The Historical Marker was the perfect finishing touch.
Sandra Farina, executive director of the Emery Village BIA said that it's important to this community to highlight the changes that have occurred, especially the great people upon whose lives Emery Village was built.
The creation of historical markers commemorates the events and people of the community and is one way the BIA ensures that the history of this unique place is remembered and brought into the present. Ward 7 councillor Giorgio Mammoliti, who was also at the unveiling ceremony, said the BIA picked the perfect opportunity to revitalize a community that had deteriorated over the years.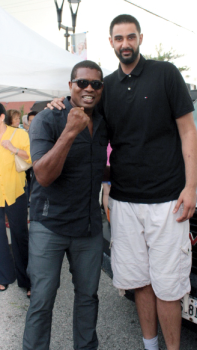 "I think it's very clear that sometimes you need a facelift in a community to make people feel good," said Tony D'Aversa, a board member of the BIA. D'Aversa was one of the driving forces in getting the project off the ground. He was born and raised in Humber Summit on Plunket, so his pride and joy at seeing all these improvements finally come to the area is easy to imagine.
Two of the more famous Emery athletes were honoured to have their names placed on the marker.
Donovan "Razor" Ruddock and Sim Bhullar. Ruddock for professional boxing and Bhullar for his time in the NBA.
On April 7, 2015, Bhullar made NBA history when he checked into a game with the Sacramento Kings for the first time in his career. Standing seven foot five inches, he became the first player of Indian descent to play in an NBA game. Ruddock is one of Canada's top heavyweight boxers of all time having taken on the likes of Mike Tyson and Lennox Lewis. Ruddock's in line to become the next boxing commissioner of Ontario.
If you have the time, take a drive on Islington to the Italian Gardens and make sure to check out all of the fine work.