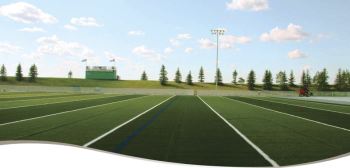 By Sean Delaney
A by product of EF Walter Inc trying to divert landfill waste, ThermaGreen Environmental was born.
Today, they are a world leader in providing innovative client solutions through the conversion of polyethylene foam materials into cost-effective and high-performing products and solutions. From floating islands to athletic turf underlay, to rooftop gardens, the applications of ThermaGreen products are virtually limitless.
"They were one of the first products to land on the moon," Blu Alexander, director of Business Development said. "EF provided a pad on the lunar module. They were also involved in the first hockey helmet. They provided the felt that was under the helmet of one of the first goalie masks."
ThermaGreen was born in 2008.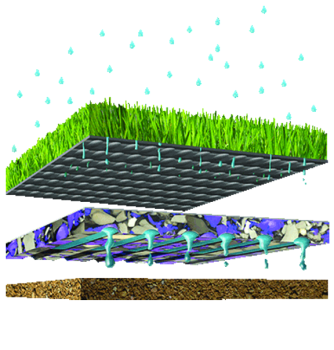 While EF Walter was exploring other companies and innovations, in order to green up the disposal of their byproducts, their company owner partnered with a man who had patented a diversion process for polyethylene.
"Once you cross link a foam, you can't use it again," Alexander explained. "The end result is landfill. And because this stuff doesn't biodegrade, the landfills don't like it because it takes up their biggest need, space."
So ThermaGreen takes it in, they shred it into certain sizes and thermally fuse it together to make useful products.
Products for playgrounds, shock absorbing layers that can go under equipment and make the surfaces safer for children, answering to the head injury criteria in place for them. Synthetic grass, rubber tiles and much, much more is coming from these creative minds.
"With our synthetic turf underlays, you get a shock continuation layer and drainage.
"It's like a good underlay for a carpet. We extend the life of a turf. Once you put a synthetic turf in, the usage life of the field goes up. Putting a pad underneath, you extend the life of the turf."
As well, the pads are scientifically designed to provide energy restoration, giving the synthetic surfaces a more true bounce.
The bases are simpler. In the past, it used to be layers of stone. A ThermaGreen underlay reduces the need for heavy equipment, cutting into work costs and time.
"You can use this right on top of asphalt and make a quality sports field," Alexander said. "Put the turf right on top of it."
And fans of the Rogers Centre will notice the effects. The black pebbles used in the turf there are going out of style in favour of underlay pads.
"When (David) Beckham played here with the (LA) Galaxy against the TFC, he refused to play on the synthetic turf, and we put a pad down for that game."
Their pads are tested with the majority of synthetic turfs and the market is growing.
And they continue to innovate.
They are developing green roof technology. Roll out a pad and you get vertical drainage, insulation and water retention.
Two YMCA's and a courthouse are already clients.
Another new product is floating covers for massive lagoons and ponds.
"They're used for odour control," Alexander said. "We've done projects of 300 to 500,000 square feet. You can install in the winter months when a lagoon is frozen. The longer it is in place, the more the microorganisms and bacteria can activate and reduce odours."
And they are working on an evaporation cover. If a 300 to 500,000 square foot storm water management pond loses three quarters of an inch of water, that can be thousands of gallons. And a huge cost.
And they are working on eco islands. Floating islands that can have plants with specific root systems for filtration and manipulation of a pond.
"We can maintain oxygen levels in ponds, and provide floating habitats for plants," Alexander said.
The innovations, the creativity simply never ends.
As they change the direction of their own waste, ThermaGreen continues to change the direction of the planet.
One innovation at a time.