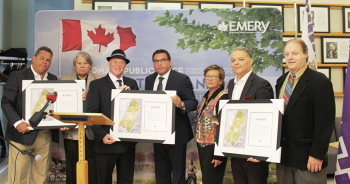 By Sean Delaney
We reported back in September of a gathering of community members and Toronto city councillors at the Etobicoke Civic Centre.
At it was a presentation of the future plans to develop one of the first ever Indigenous parks celebrating the culture and diversity of the First Nations people. Chief Stacey LaForme, chief of the Mississaugas of the New Credit First Nation and three First Nations representatives applauded Toronto's largest business improvement area's plans to build an interactive First Nations Park in Emery Village.
The initiative earned unanimous support from Etobicoke York Community Council this week.
Most recently Etobicoke York community council deferred discussion of a December city parks, forestry and recreation staff report until its Feb. 21 meeting.
York West Councillor Giorgio Mammoliti, who represents the area, moved the deferral motion and told councillors three First Nations representatives would like to attend that discussion.
Stacey LaForme, chief of the Mississaugas of the New Credit First Nation, Grand Chief Konrad Sioui of Huron-Wendat First Nation and Councillor Robert Johnson of Six Nations expressed gratitude for the First Nations Park plan at community council's September 2017 meeting.
Emery Village Business Improvement Area proposes the park to educate the public about the daily activities of Indigenous peoples on land occupied by a hydro right-of-way south of Finch Ave West on the east side of Weston Rd.
City parks staff, Hydro One officials and Mammoliti have preliminarily reviewed the drawings, the report indicated.
We look forward to reporting discussions from the next Community Council meeting on Feb. 21.