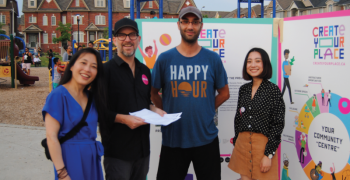 By Sean Delaney
Emery's new community centre is coming in 2024.
The City of Toronto Parks, Forestry & Recreation Division is developing a new Western North York Community Centre at 60 Starview Lane and they would like your help. The new 77,000 square foot state-of-the-art community and recreation centre is located next to St. Basil-the-Great College School. It will replace the existing Carmine Stefano Community Centre, which is currently being leased by the City and will provide enhanced programming with no interruption to service.
Possible components may include an aquatic centre, gymnasium, a walking track, fitness with studios, flexible multi-purpose rooms, licensed childcare; and usable outdoor spaces.
It will be a place for the community to gather and socialize.
It will be a place that cultivates creativity, health and well-being, inclusivity, and accessibility for all ages and will improve the quality of life for the community.
While the City is in the design phase, you have an opportunity to let then know what elements and services are important to you and your family. Help the City to create your perfect place. Visit:[url=http:// www.createyourplace.ca/] www.createyourplace.ca/[/url]
Keep an eye out for open houses or popup info opportunities in your area.