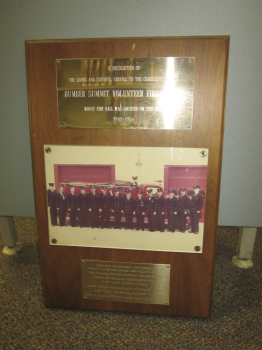 By Claudio D'Intino
The Humber Summit Library at 2990 Islington Ave was the former site of the fire hall of the Humber Summit Volunteer Fire Brigade.
A seniors group of former Humber Summit residents met on Thursday afternoons, at the Pine Ridge Presbyterian Church at 39 Knox Ave, directly behind the library.
In 1984, I was asked to be a guest speaker to talk about my deep interest in the local history. Many of seniors had family involved with the Brigade. I told them a historical plaque should go into the Humber Summit Library to honour the firefighters, especially their heroism during Hurricane Hazel on October 15, 1954.
I will never forget the loud ovation I got. After I spoke, many of them came up to me in person and expressed their gratitude. I was humbled.
I hit a nerve with the seniors.
Up until that point there was no community recognition since the Brigade ended in 1966.
Furthermore, they were so sad to see the farmland they live on and the close knit community become another urban development. I could see it all their faces. I was six years old and a son of new Italian immigrants, when my family moved to Humber Summit in 1967 from the St. Clair Ave West and Dufferin St. area. I told the seniors that their lifetime sacrifice to farm the lands of Humber Summit was no different than my own parents' sacrifice to live in Canada.
I remember when I approached the staff of the North York Public Library and how thrilled they were with the idea. They agreed to cover half the cost and have the plaque made, while I covered the cost for the other half. It was presented to the Humber Summit Library, at their 10th anniversary celebration.
I could not believe my eyes a couple of years ago when that picture of the same plaque became a wall mural in the heart of Emery Village. Some of those firefighters pictured on the plaque are featured on the wall mural in Emery Village.