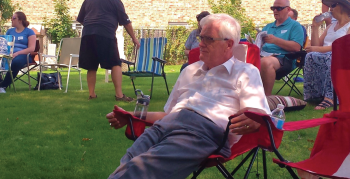 By Tim Lambrinos
It happens every August. The last Sunday is selected by relatives of Humber Summit's pioneer ancestors for an annual get-together.
The gathering is a very special and relaxing extended family reunion. They meet at the Pine Ridge Cemetery where all their ancestors lay to rest.
On Sunday August 25, 2016, the Pine Ridge Cemetery Board of Trustees officially met once again for their annual meeting at the cemetery. The Pine Ridge Cemetery is located on the north-west corner of Rowntree Mills Road and Islington Avenue. It is the final resting place for nearly all of Emery's and Humber Summit's original pioneer homesteaders. The cemetery was deeded for grave usage in 1848 by Joseph Rowntree. His wishes were to have a board of trustees forever preserve a common cemetery named Pine Ridge.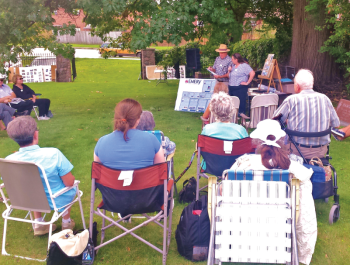 There had been a Primitive Methodist Church by that name that also stood on the site. The tombstones of those deceased at the cemetery receive ongoing preservation and maintenance overseen by the current Board of Trustees (Rick Jackson, Glenn McClure, Kirby Shaw, Don Rowntree, Harold Evans, Faye Smith, Marion Rowntree Russell and Cyndi Rowntree).
The day also served as an announcement for a new historical marker that was recently erected by the Emery Village BIA.
The marker is located at the Italian Gardens Plaza on the east side of Islington Avenue, just south of Satterly. This work finishes off the enhancement styling that had been originally visualized and headed by our locally-elected municipal official.