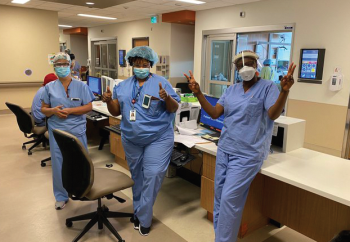 By Sean Delaney
We couldn't be more proud of the Humber River Hospital (HRH) and its dedicated staff members. The HRH has announced that its Intensive Care Unit (ICU) is now COVID-19 patient-free (as of July 3). It is just a snippet in time and sure the virus will be back, but let's take a moment to review.
In March, it felt like the world was almost coming to an end. Municipalities were stricken with a virus that even most experts didn't know how to handle, and it was moving very fast through community spread. Early on it was apparent the devastation that COVID-19 had in other countries such as Spain and Italy.
Hospitals were over-run with patients, and there was limited personal protection equipment for front line workers. Medical equipment such as respirators were also in short supply. Family members were worried for patients and all front line workers. I have two daughters that are nurses and have tirelessly worked their long shifts throughout the past five months. It's been a long and hard and frightening battle for all. According to Joe Gorman, director of corporate communications at the hospital, a sense of relief settled through the air when they heard the news.
"There was a sense of pride and understanding. They all know they did a good job but also that the job's not done." Gorman said.
Thank you to the sixth floor staff and physicians that have bonded together and provided exceptional care in this pandemic.
Today is a day to celebrate at #HRH. Humber River Hospital was among the top five hospitals in the city with the most number of positive COVID-19 cases.