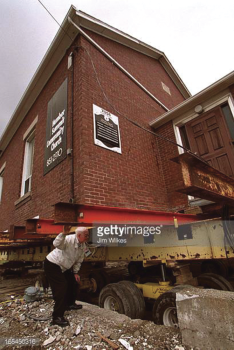 By Claudio D'Intino
There is a small church located at 7056 Islington Avenue, just north of Steeles. It is currently called the House of Faith Tabernacle, formerly known as the Humber Summit Community Church.
In 2001, Islington Avenue was widened to four lanes from Steeles Ave. all the way up to Major MacKenzie Dr. The original alignment called for the demolition of the church. But the City of Vaughan bowed under pressure to save the church.
In this picture from Jim Wilkes and the Toronto Star via Getty Images, the article dated 05/28/01 states "Don Morrison peers under Humber Summit Church at the big wheels on which it was hoisted for a move that will see it shifted a dozen or so metres and twisted 90 degrees to face south. It's the church's second move. It moved two kilometres from Etobicoke in 1880."
Every last Sunday in August, the descendants of the Pine Ridge Cemetery, located at Rowntree Mills Rd. and Islington Ave., gather on the cemetery grounds for an annual picnic.
I remember it was the 125th anniversary of the Humber Summit Church. I had the honour of attending a service at the church.
Those descendants petitioned Vaughan council not to demolish the church. The City of Vaughan paid for the move. Heritage Vaughan on January 21, 2002 gave the church officials a Certificate of Appreciation.
Dr. Jelena Cingara, pianist, piano teacher and accompanist, was the first church organist and music director at Humber Summit Community Church from 2001 to 2003. She was born in Novi Sad, Yugoslavia in 1976 and moved to Canada in 1991. She now teaches students here in North York and in Salt Lake City, Utah.
The untold history of the Humber Summit Church.
In the Toronto, Grey & Bruce Railways Hand-book of Useful Information of 1876 page 14 holds the beginning of the HUMBER SUMMIT STATION.
"Humber Village, a small place containing about 120 inhabitants, whose trade is limited to some wagon makers and blacksmiths' shop, a cabinet-maker's establishment, a couple of general stores, with a flour mill about a mile from the station."
Sarah Ann Sutton Samson (1863-1887) is buried at Pine Ridge. Online sources state Sarah probably met her husband Alfred Sansom Jr. at the "Pioneer Church" where they were both confirmed in 1878; this was the predecessor church to the Humber Summit Congregational Church…where their families joined when it was established in 1880. Sarah and Alfred were married at the Humber Summit Congregational Church in 1884 by the Rev. W.W. Smith.
Ralph Sutton (1840-1916) was her father.
"As youths, Ralph and his future wife Mary Ann Newton lived quite close to one another….Following their marriage…they live for at least 40 years as tenants on a farm, near Humber Summit, where they attended the Congregational Church at Islington and Steeles Avenues.
James Williams Devins (1854-1912) and Caroline Elizabeth Castator (1868-1945), according to online sources were married Dec. 14, 1887 in Humber Summit Church, Toronto, Ontario.
The Humber Summit Church is not a historical building because its internal and external structure is not original. However, its history with the original farmers of Humber Summit must be appreciated and never forgotten.
(I want to dedicate this article to the late Sheila Lambrinos. She was my mentor helping me develop a true appreciation of Emery's history.)