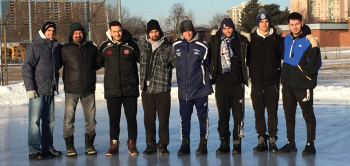 By Sean Delaney
Have you ever imagined that Toronto might spawn another hockey great such as Wayne Gretzky or Jason Allison? Most professional hockey players learned to skate on a local public rink or sometimes even in their own backyard. Well, check out one of the local outdoor rinks in the Emery area, and look out for the up-and-comer acquiring those special hockey and skating skills needed to be another future legend.
But let's start with an ice rink first, and all that more special is it is located outside. Then let's think of a community project to build and maintain an outdoor rink. Believe me, you will be very surprised by the amount of time and dedication that goes into one of these icy wonders.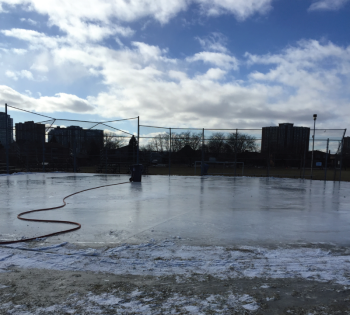 Before there is a chill in the fall air, apply to the City Of Toronto for a permit to build. That's where a new local Emery resident, Tony Miele, comes into the picture. For many years, the idea of building a rink at 50 Apted Ave in the park, on the baseball diamond, was just a field of dreams. A rink has not been built on that site for many reasons – nobody to take on the challenge, and perhaps the weather didn't cooperate in some of those years.
Now this winter, Miele with his newly minted rink permit in hand, sets out to make all of the neighbourhood children happy. The interesting thing is, Tony finds himself not alone in his efforts. With the help of local, Antonio Damiano, the construction team grew to two people, then three, five and beyond. Residents walking by would ask, "Hey can I help you guys?"
Sure, come and join in. Another local father, Richard, has been a wonderful help as well. With just a watering hose and a sprinkler in hand, the rink began to take form, layer by layer by layer. Thanks also to those colder than normal evenings. Sometimes 20 to 30 man hours of work per week were needed to see this through. Some nights, folks bring their own floodlights and fire them up from a close electrical outlet.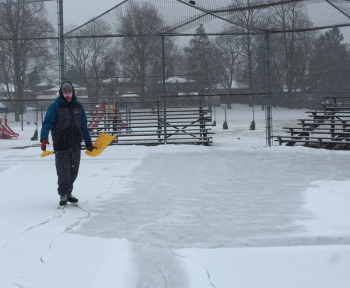 Now, children, friends and families come from all over the neighbourhood to enjoy a skate in the park. Weather permitting, drop by and see for yourself firsthand what a strong community spirit can accomplish.
Hats off to Tony Miele, Richard Pulcini, Antonio Damiano, Santino Damiano, Nicholas Prevedel, Christian Decesare, Vince Contento, Frank Damiano, Michael Ruffa, Michael Scavone, Marco Ranalli and Joe D'Orrico for helping continue to keep this dream alive.