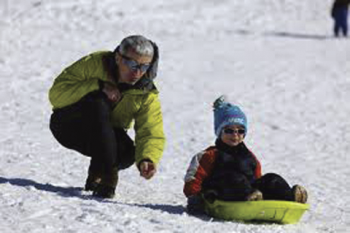 Five fun holiday activities in and about Emery Village
BY Sayada Nabi
1) Pine Point Park is a 39 hectare park you might have seen on your right after getting on the 401 west from the Weston Rd. on ramp. In the summer this park is home to various soccer leagues, and cricket teams competing for trophies and glory. In the winter the snow transforms the park into a winter wonderland, giving the kids a spot to toboggan down the hill, build a snowman and have snowball fights.
2) Tobogganing may not be popular with everyone – and if it's not your cup of tea, how about skating? One of the most popular rinks in Toronto is Nathan Phillips Square, but you don't have to go that far to skate. The Gord and Irene Risk Community Centre near Islington and Finch gives residents a place to drop-in, at specific times, and skate over the holiday break.
3) The winter holidays mean snow, sometimes a little, sometimes a lot. And if the weather isn't friendly for fun outdoor activities, Cineplex offers Family Favourites on Saturday mornings at 11 a.m. For an admission price of $2.50, head up to the Colossus Theatre in Vaughan for the whole family to enjoy some holiday classics such as Fred Claus.
4) The Albion Centre is a place close to home that offers residents a place to get into the holiday spirit and take pictures with Santa Claus. Santa is at the mall for photo opportunities until Christmas Eve – before he has to leave and start delivering presents. And don't forget your goodie bag after getting your picture taken. The mall also has a gift-wrapping service, and any donations will help the Albion Boys and Girls Club.
5) The holiday season is about enjoying time with family, appreciating all the blessings you have and it's a time for giving. We have various people on our shopping lists, and sometimes we tend to forget those who aren't as fortunate. If you want to donate unused clothes or toys you can drop it off at the new purple donation box at 196 Toryork Drive.
The proceeds go to the Children's Wish Foundation and Talize thrift stores.