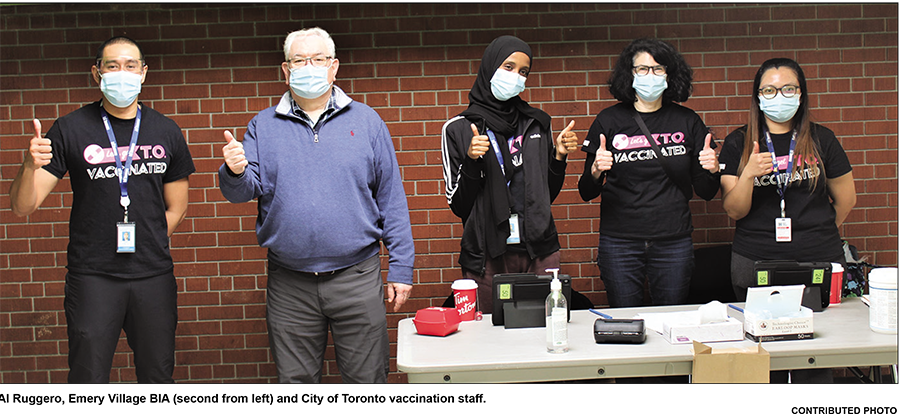 By Sean Delaney
On April 12th, the Emery Village BIA, in partnership with Toronto Public Health, held a walk-in vaccination clinic at the Carmine Stefano Community Centre. The clinic was arranged and promoted by the BIA and explicitly targeted Emery Businesses, their employees, and immediate family members.
Sandra Farina, Executive Director of the BIA, has worked closely with Toronto Public Health to ensure that the 3,200 BIA members have adequate access to all the tools to fight COVID 19. Emery Village, housing one of Canada's largest industrial employment areas, has seen challenging times keeping up with changing regulations, rapid testing resources and finding and hosting vaccination clinics.
"I would like to thank all of the Emery Businesses and their workers for taking the time to participate in our Vaccination Clinic," Farina said. "Promoting vaccination helps to increase workplace safety. Employers can continue to help encourage vaccination by making it easier for workers to get vaccinated and providing information from trusted sources. COVID-19 vaccination is an important layer of protection for workers, their families and the community. Anyone interested on how to schedule an on-site vaccination clinic for your business and workers please visit our website at: www.emeryvillagebia.ca for more information."
Recently, Toronto Medical Officer of Health, Dr. Eileen de Villa, announced that the City of Toronto leads most global cities in second dose COVID-19 vaccination coverage among eligible residents 12 and older, 18 and older, and all residents.
Using publicly available data, as of March, Toronto Public Health (TPH) conducted an analysis comparing the vaccination coverage for Toronto with several U.S. and international cities, including New York City, Chicago, Los Angeles County, London, Berlin and Brussels. Overall, Toronto's vaccination coverage is comparable and, most often, higher than the other cities reviewed.
As of the end of March, approximately 88.9 per cent of all Toronto residents 12 and older have received two doses, with 91.5 per cent having gotten at least one dose of the COVID-19 vaccine.
More than 64.5 per cent of eligible residents have received a third dose.
Some excellent numbers from Canada's largest city.