By Sean Delaney
The YUPP Muttball is a fascinating take on dog food. No more bowls of kibble spilling all over the floor resulting in that awkward clean-up with the small kitchen vacuum cleaner.
Imagine simply thawing out a veritable meatball and handing it to your dog. The ball itself is made with the highest quality, healthy, dog loving ingredients. You, offering your furry friend everything it needs, quick and clean, job done.
That is the Your Ultimate Pet Products Muttballs. They are an Emery dog food business that has the best for your furry friends in mind while offering you an almost futuristic take on the task of feeding your best friend.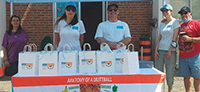 Over 10 years ago, a woman named Anna had a rescue dog. She was the original owner of a business named Pablo The Dog, and her own dog was becoming ill. She was trying to find nutritious food to feed the unhealthy dog, YUPP Muttball owner Aldo Sistilli said. But she didn't want to settle for just nutrition on the label. She tried to find something ideal for the dog, all of the ingredients designed to actually be what a dog requires. When she approached her vet, and they didn't have a suggestion to meet her needs, so she started doing her own research and said to herself, why don't I make my own dog food?
"She found out what was healthy for dogs through that research," Sistilli said. "Reading material, talking to animal doctors, all of that. She found what's actually good for dogs like lentils, certain oats, and vegetables and came up with a formula of cooked dog food."
Anna is in her 70s now, Sistilli said, and recently dealt with the loss of her husband.
She was his accounting client, and when her husband passed, he said, she decided she had to close down or sell the business. She didn't want to close it down because she had a small group of solid clients in downtown Toronto like family, so she approached Sistilli and asked him if he knew anyone interested.
"I've always loved dogs, I grew up with German Shepherds, and I started my accounting career with Maple Leaf Foods, so I knew the food industry."
He approached his accounting partner and said, why not?
"So, we became business partners in a dog food company," Sistilli said.
They rethought and redeveloped, coming up with the Your Ultimate Pet Products acronym, YUPP.
"That really worked out," Sistilli joked.
They spent a year learning the recipe from Anna, a very hands-on process, he said. And then expanded their product line to offer chicken, turkey, and lamb. Rather than water, they add broth to the meat version of the products. They switched to Cedar Springs bottled water from the tap to eliminate and control the substances dog could ingest.
"Every year, we have tried to enhance the product based on customer feedback, and what we come across that is important," Sisitilli said.
And when customers see a recipe with just healthy human foods for a dog, such as lentils, and yams they can also know that YUPP is constantly learning and innovating.
"I just read a study the other day that we should be eating yams instead of normal potatoes because it can prolong human life," Sistilli said. "So, it's something we'll look into. We've added parsley because it gives a dog cleaner breath; we grind down carrots and apples for natural sugars. We add a touch of apple cider vinegar to extract vitamins out of the bone, and we produce healthy in-house calcium with grinded-down eggshells, a great natural calcium source. And we try to get our hands on heart and liver. Dogs smell that, and it gives them that appetite. It's more palatable to them if there's liver, they love liver."
And they've even revamped their product line to suit customers, just recently releasing the Mini-Muttball.
One regular Muttball is the right amount for 10 pounds of dog, so a 20-pound dog could eat two ideally, Aldo said.
"You don't want to overfeed. One Muttball's are a good snack and a big snack."
A normal Muttball is approximately 96 grams, Sistilli said, and they received feedback that while loved, it was a little too large for smaller dogs.
"Customers asked for a smaller version, and we delivered," Sisitilli said. "Just three weeks ago, we released the Mini-Muttball. It takes a lot more work to make, but we're happy to make for it our customers."
They've started to add new clients, seeing a strong condominium market in downtown Toronto. And they've developed a significant Instagram presence and encourage people to contact them online, via their website, social media, or email and try a sample.
"You can't appreciate it by just looking at it on the internet," Sistilli said.
Product and pricing is at:
www.yuppc.com
Or send an email to:
aldo@yuppc.com,
Or, info@yupp.com
You can also find them on Instagram: @yuppmuttballs
Pickups are strictly by appointment