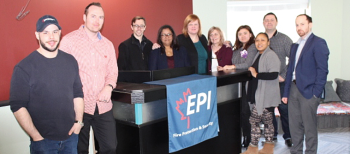 By Sean Delaney
A change in management and a growth focus and EPI Fire Protection & Security has gone from a small security service provider to a major security force in the Emery area.
"We have had some significant growth over the last two and a half year," said General Manager Jonathan Zafrani. "We had nine people working here, experienced a changeover in management, and had fast growth."
The team just added their 50th person, Zafrani said, built a second floor in this unit, doubled their size and expanded their reach into the community. An expansion they want to continue.
"We do a lot of work in the community. We service city buildings, police stations, apartment buildings, and we would like to let our neighbours know we are in the area and would like to put the word out we would be very happy to do more work in this area."
They inspect and repair fire alarm systems, sprinkler systems, and security systems as well as providing complete monitoring services. They also help their clients remain compliant with annual testing requirements, can identify deficiencies and propose repairs or upgrades as needed.
"We have monitoring agreements with hundreds of customers, set up systems, program who should be called and do everything from adding a security system to a place that doesn't even have cameras to renovating and upgrading," Zafrani said. "The security world is becoming much more affordable and there all sorts of interesting options out there, from key cards to video to finger scanners, we can do it all."
And Zafrani said EPI is ready for more growth. He believes they're in a "sweet spot" today with the available manpower to respond quickly, the technical expertise customers need in fire alarm systems, sprinkler systems, and security systems and they aren't so mega that every customer is a faceless corporation.
"I know all our customers and they communicate with me regularly. We see ourselves as more a partner and advisor to our customers, rather than trying to sell them a service. We know that building up trust over years can be ruined in a second if bad advice is given. We want customers for the long term, so we give competitive pricing and focus on great service."
EPI Fire Protection & Security can be reached at (416) 746-2225 or you can visit them in person at 800 Arrow Road, Unit 8, Toronto.