By Sean Delaney
A celebration took place at Gracedale Public School where the 318th Toronto Girl Guide Unit has been meeting for 50 years. The guests included Girl Guides from as far back as the 70s, some from four generations of members of the 318th Toronto Girl Guide Unit. Many of these girls, who are now grown woman with children of their own, brought their kids to the celebration in hopes that they will be inspired to join Guiding in the future.
There were displays of pictures and crafts from the 70s-to-present from generations of Girl Guides. A slide show was shown throughout the evening of past and current events including camps, trips, tree planting, cookies sales, and regular weekly meeting activities. Refreshments were provided and there was a decorated cake to celebrate the 50 year anniversary. The cake was cut by a member of the Girl Guides and the Lone Pathfinders as a symbol of continuous friendship and unity.
Girls from the past reminisced over their experiences and how things have changed over the years, and how some things never change. For example the uniform changed many times but the core values remain the same. The older generation shared memories of experiences that were life changing and how it made a difference in their lives today. The younger generation were intrigued by the experiences and expressed their gratitude by wanting to follow in their footsteps.
Awards were presented to the all the Girls Guides and the Lone Pathfinders for the sale of Girl Guide Cookies. The group also said farewell to two girls moving to another city and celebrated the Guider in Charges 50 years in Guiding with the same unit.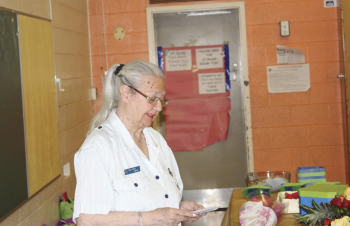 The Ontario Award was presented to Rose Marie Saniga (Frosty) in appreciation of her extended dedicated "Service to Guiding." The Provincial Commissioner of Guiding Marcia Powers-Dunlop said, "Rose Marie, you have had a long career with Girl Guide of Canada, Ontario Council and have demonstrated your commitment to our vision and mission in all of your roles. Commissioner, Deputy Commissioner, Adviser, Treasure, Contact Guider, Unit Guider, friend and supporter. Rose Marie, you are an inspiration to us all now and I trust for many years to come."
Guiding starts again in September 2016, the unit accepts girls of 9 to 11 years old. The meetings are usually two hours from 7 p.m. to 9 p.m. every Wednesday night. For more information call 1-800-565-8111 or go to:
www.girlguides.ca.
Thanks for the memories!!!