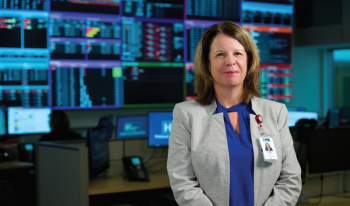 By Sean Delaney
If there's anything positive about COVID-19, and the global pandemic the virus has forced a world to live through, it appears it is experience.
Jane Casey, Director of Emergency at Humber River Hospital, said that if anything, the virus has given her staff and department the experience to prepare themselves more fully, and react more efficiently to new cases of the coronavirus, COVID-19.
"I think a lot of good has come from COVID," Casey said. "We've really enhanced our cleaning in the entire hospital, so it's touched all of our services. We have plexiglass dividers between patients in waiting rooms, at the triage desk, and we have everybody wearing masks."
Casey said staff and patients have even made social distancing a routine within their days, and with these added measures in place, the hospital is seeing less transmission of the disease.
"We are seeing quite a bit of COVID here, but we want the readers to know, in an emergency, we are here to help," she said. "We're seeing less volume of patients than we typically see (in the emergency department), and if anyone is sick and needs to come to emerg, we really want you to come."
Casey said hospital staff are all feeling thankful to the gracious and considerate members of the public who have taken protocols seriously, and are washing their hands, wearing their masks and maintaining distances. The effort is particularly felt in the senior community, and she said that thanks to it, they are seeing better numbers among seniors in the second wave.
She also expressed gratitude to the front-line workers, such as physios, nurses, physicians, and more, who continue to go out of their way to help people.
"Staff are doing their very, very best to give that great and compassionate care," she said. "And we owe a big thank you to the public for following protocols and our front-line heroes who are doing their best to take care of people."
While noting her gratitude, Casey explained that the hospital is better equipped to fight the pandemic due to the experience they gained during the first wave. And she sees a much more prepared and efficient system available to fight new cases.
"We had time to learn about the disease, we have enough Personal Protective Equipment (PPE) and you've lived it once so, you're able to live it again," she said. "It is much easier this time because we have all of our measures down right from the beginning of this to manage what's happening with our patients."
And the hospital is prepared for any bumps in the road, she said, including the positive ones. They have a management committee that meets several times a week, she said, to discuss the litany of experiences the hospital and its staff are having and formulate strategies based on those experiences. But also, to plan ahead, including preparing for the eventual distribution of a vaccine.
"We have ordered additional syringes so when a vaccination is out, we are ready," she said.