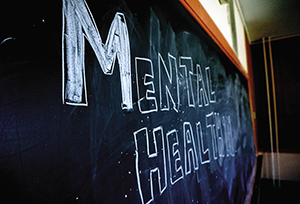 The year, 2020, has been one of uncertainty. As COVID-19 began to spread, causing worldwide restrictions and lockdowns, people were left isolated and overwhelmed by fear and anxiety. With this in mind, how has this pandemic affected individuals struggling with mental health? The Mental Health team at Humber River Hospital has been busy trying to meet the needs of patients during these unprecedented times, and they really rose to the challenge to support our community.
The HRH Mobile Crisis Intervention Team (MCIT) consists of two full-time psychiatric nurses, one part-time nurse, six casual nurses, two clerical supports and three Toronto Police officers.
An MCIT nurse, accompanied by a police officer, provides skilled and compassionate care during mental health-related emergencies in the community. They have access to electronic medical records at HRH to access patient's history, medication, physical status and treatment team to inform their own clinical interventions while in the community.
To align with our digital vision to lead the advancement of digitally enabled, integrated and team-based care, the decision was made to transition from using paper-based documentation to online documentation. To implement this new initiative, MCIT collaborated with the Clinical Informatics Team at Humber River Hospital to create an online assessment document from the two existing paper assessment forms. They also collaborated with the Digital Learning Team and patient registration and data quality to facilitate a two-hour training session on telephone registration, documentation and navigating the electronic medical records. They created a documentation handbook and provided nurses with laptops for use while they work with patients on the road. Overall, their efforts lead to a smooth transition from paper to online documentation.
Due to the implementation of this new initiative, the MCIT nurses have access to electronic medical records to review patient's history, medication, and treatment to inform their clinical interventions. This ensures that patients who require services do not fall through the cracks and receive the best possible care.
When services rapidly changed at the onset of the COVID-19 pandemic, The HRH Outpatient Addictions program was concerned that patients may experience significant barriers in accessing care given that many health services closed, and others transitioned to virtual care. They quickly implemented an initiative to have staff work in the emergency department to increase engagement with patients identified as having substance use or concurrent disorders, meaning they were experiencing both mental illness and a substance abuse disorder.
The HRH staff was provided with training and access to the electronic patient flow tracker to be able to see patients as they arrived in the emergency department. Patients identified with substance use issues and/or concurrent disorder were screened, assessed, and provided immediate psychosocial support.
They found that these initiatives helped to advocate and educate staff, thereby reducing stigma and supporting the emergency department in providing more efficient and appropriate care.