The 250-year-old Toronto heritage tree has been saved. And the city will gain a new public parkette in the process.
The City of Toronto has been given the green light to purchase 76 Coral Gable Dr. in North York to preserve a 250-year-old red oak heritage tree that currently resides on the private property at this site.
In 2019, the city signed an agreement with the landowner to purchase the property, however, the current owner was looking to be released from that contract, driven by the pandemic-inspired surge in home prices.
As CBC reported on Feb. 23, 2021, the property's owner emailed the city to say he expected the sale price to reflect the market price of the property, which he estimated had increased by $120,000 to $900,000.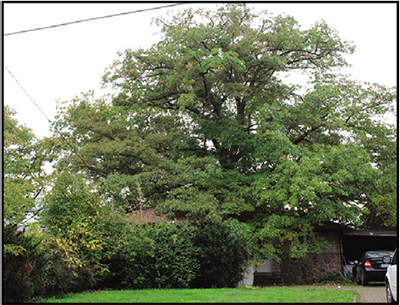 At a judicial hearing on October 14, the Honourable Susan Vella issued an oral decision in favour of the city proceeding with this land purchase on or before December 1, 2021.
The court will issue a vesting order granting title to the city on December 1, 2021 provided the city pays the court the agreed purchase price of $780,000 less certain deductions.
Justice Vella also ordered costs of $7,500 against the homeowner, payable to the city within 30 days or deductible from the purchase price if not paid by then.
In her decision, Justice Vella determined that there is a public benefit being created through the transaction to view and enjoy this tree and ensure its preservation by converting the property into a public park.
The city has partnered with the community, which has donated more than $400,000 to date toward the purchase to preserve this oak tree and enhance a new parkette when built.
The city's fundraising campaign saw everything from conversations with corporate Canada to a young resident selling handmade bracelets and garnered international media attention in the process.