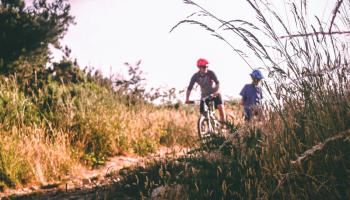 By Tim Lambrinos
In June 2012, Toronto City Council adopted the Bikeway Trails Implementation Plan. The document is the basis for new multi-use trail development in the city.
The broader plan called for 77 kilometres of multi-use pathways to be built over the next 10 years.
One of these new pathways has now been completed, right in Emery Village. The new trail extends from the base of Lanyard Road and connects to existing pathways that travel along the Humber River. The new trail follows the Emery Creek and extends into the existing systems already into Etobicoke.
The Emery Village BIA will conduct a ribbon cutting ceremony to announce the opening of the path near the base of Lanyard Road and Weston Road on May 26, 2019 at 12:30 p.m.
Ward 7 City Councillor Anthony Perruzza, will officially be a part of this historic pathway opening along with invited Etobicoke-York Councillors, Michael Ford, Stephen Holyday and Frances Nunziata. So get your bicycles tuned up and we hope to see you there.
After the opening, the community is invited to attend and explore the Humber River for a 10 km bicycle ride that will turn around at the Esther Lorrie Park on Westhumber Boulevard. A turn around station will be set-up at the park for all participants. All those who complete the 10 km bicycle-touring portion along the course will obtain official certificates distributed by the Emery BIA, once they return.
All charity proceeds for the planned Emery Village tour-de-course will go toward saving the life of Toronto's 300 year old Oak Tree on Coral Gable Drive.
For further information, please contact Emery Village BIA at 416-744-7242 or visit: emeryvillagebia.ca
Date: Sunday, May 26, 2019
Time: 12:30 p.m. for Pre-Ride Check-In and 1 p.m. – Official ribbon cutting and bike-a-thon.