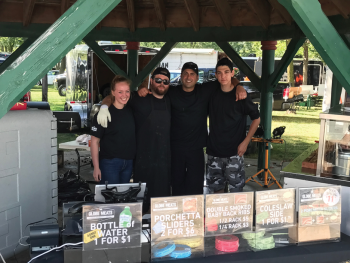 By Sean Delaney
I was fortunate to be able to catch up with our local Globe Meats friends in Orillia the weekend of Aug. 12. There was an annual waterfront festival taking place. The turnout of family and visitors would likely be large. In previous years the food fair was lifeless and boring, dogs and burgers.
Enter the Globe Meats team with freshly sauced ribs, salads, and a large porchetta roast. Yum! The lineups to get a taste of the Globe offerings were long. It went on all weekend! It's something we can be proud of from Emery. Hats off to Dante DiBiase and his hard working crew.
The good news is that you don't have to travel out of Toronto to savour all the best that Globe Meats and Fresh Market has to offer. The Globe Meats new state of the art facility at 61 Signet Drive in Emery boasts a restaurant and grill. From pizza, hot table, grill and porchetta stations their menu spans a wide selection. From butcher to table they serve you mouth-watering meat. Breakfast, Lunch, and Take-out come visit them. The unique venue is the perfect setting for your next party or event.
You can visit their catering page online at: globemeatsmarket.com.