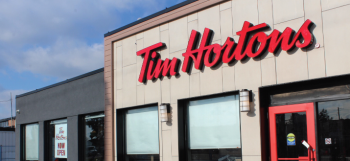 By Sean Delaney
A new Tim Hortons has opened at 1060 Finch Avenue W, at the corner of Finch Avenue and Allness Street.
General Manager Ellia Andrawis is excited to open his doors to the public. The construction was surprisingly quick. The building is the brand new and state of the art, fresh and modern. It is a perfect place to go for great-tasting, freshly brewed coffee.
"We also offer a range of specialty beverages including lattes, cappuccinos, espresso, iced and frozen coffee, hot chocolate and tea. You can also stop by for a quick snack or delicious meal, any time of day," Andrawis said. "We have a range of soups and made-to-order sandwiches, grilled panninis and wraps. The doors are always open, and we welcome you to stay and relax or grab a coffee on the go."
So drop on in anytime day or night to the new, open 24 hours, Tim Hortons and you will always be welcomed with a smile.