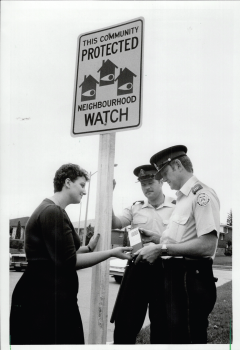 The history of the Gord and Irene Risk Community Centre goes back to the Forgotten Corners Ratepayers Association.
It was founded by Olive Belle (Billie) Cooper. She died in Aug., 2012 at the age of 87. Her obituary notice states, "Her pride in her heritage led Billie to see it as a duty to take an active role in making her community a better place for all…She lobbied the old Borough of North York to install the first bocce court after watching her neighbours enjoy the game on a piece of scrub grass by the public school (Bluehaven). Billie followed this up getting lights installed so that her neighbours' could enjoyment continue into the evening."
It was called 'Forgotten Corners' because it was recreational facilities for, "a then neglected corner of North York."
I took over as president in 1982, from Sergio Marchi, who began his political career as an alderman in North York Council. I was also a newspaper reporter for the Humber Summit Happenings community newspaper. Sergio Marchi was its editor. Funny, now 35 years I am a newspaper reporter for the Emery Village Voice.
The Forgotten Corners general meetings became a forum for residents to air their community concerns. I remember one meeting where former North York mayor, Mel Lastman, was a speaker. He told me privately and I quote "I hate the name Forgotten Corners."
In other words, we got under the skin of North York Council and over the years you can see the result with the Gord and Irene Risk Community Centre.
One of my proudest moments was when NEIGHBOURHOOD WATCH, a community initiated crime prevention program was established. Elena Pietrangelo, who succeeded me as president in 1984, and can be seen in this photograph (right) with two officers.
Current Vaughan mayor, Maurizio Bevilacqua was also a member of Forgotten Corners in 1985, before entering politics.
There is an old joke that asked, "What did one wall say to the other?"
The answer is, "See you at the corner!"
See you at our next meeting is what Humber Summit residents said. Forgotten Corners, because of residents like Billie Cooper, became the cornerstone of our community activism.
That spirit continues today with the Emery Village Voice.