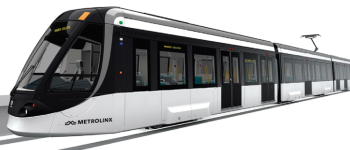 By Sean Delaney
You can cross Finch in a pinch.
How often have you complained about how difficult it is to get around Emery and beyond on public transit? Well, say hello to the Finch West LRT.
It's the new 11-kilometre light rail transit line that will make commuting in Toronto easier than ever before. With connections to the TTC, the subway will always be on your doorstep. And of course, it brings new stations and stops, connecting northwest Toronto to the subway and to transit services from York Region, Peel Region and everywhere in between. It's all part of a truly regional rapid transit network and it's going to change the way you live in Toronto. Social benefits include more frequent transit service, improved facilities for pedestrians and cyclists, improved streetscaping courtesy of a collaboration between Metrolinx and your local Emery Village BIA.
So let's have a look at where the LRT will stop?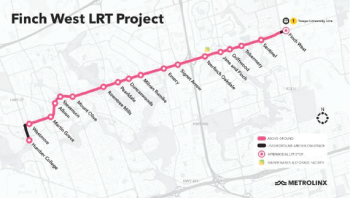 The Finch West LRT will have 18 new stops and stations for students and residents alike. The LRT connects to TTC, GO, Miway, Viva, and Züm transit services. You can gain access to a regional web that will take you across the city.
The Finch West LRT is the economic boost Northwest Toronto needs. It's going to cut travel and connection times, fuel economic growth, and make the community a better place to live and play.
If you live in the Emery area, the LRT will help to transform your community.
A new vibrancy is being built, with streetscapes accessible for drivers, transit riders, cyclists, pedestrians and everyone who lives here. The Finch West LRT is freedom and choice for families, as they move across the city.
Metrolinx along with Mosaic Transit Builders have made a commitment to being as good of a neighbour as possible during the building phase. This commitment includes some of the following:
*One lane will remain open in each direction on Finch Avenue to reduce congestion at all times.
*Detours - Advanced notices and signs for required detours.
*Dust - Watering trucks will be used to help reduce dust.
*Noise - They will monitor and take action to minimize noise level caused by heavy equipment.
*Notices - If you live or work nearby, you will receive notices about construction work.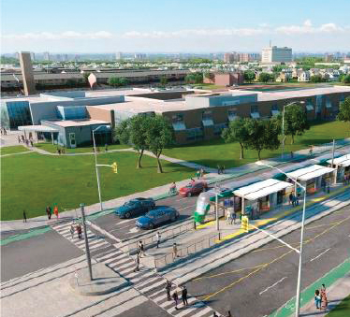 And advertisements will appear in local media outlets.
For businesses in the area, there is a strong commitment to using small local companies for the various facets of construction. If you have any questions about the construction and timing of the new LRT, please feel free to contact Mosaic Transit: www.mosaictransit.com, or email: procurement@mosaictransit.com
Additional information can be found at: www.Metrolinx.com/finchwestlrt
Drop-in to the community office at 2540 Finch Avenue West.
Feel free to call the community office at: (416) 202-6500 or email: finchwest@metrolinx.com
Construction updates and road closure information can also be found through the Emery Village BIA at: www.emeryvillagebia.ca