By Sean Delaney
Imagine everywhere being four times easier to reach – without needing a motor vehicle or transit.
It's an innovative idea, that gets its complexity from layers of simplicity.

The Our Greenway plan would create a 21-kilometre roadside linear park network across Toronto's suburban northwest. The first of its kind in the world, the cutting-edge Mobility Greenway would support a range of personal and commercial mobility devices allowing people of all ages and abilities to be able to travel across the northwest quickly in comfort.
"We're trying to have conservancy," said Darnel Harris, Executive Director of Our Greenway Conservancy. "To have a linear park, a safe pathway around northwest Toronto, that would unite communities along major roads. As well, have conservancy in charge of managing these pathways."
If you go through most of northwest Toronto, Harris said, there is a lack of management. The grass will grow six feet in some areas. A creek he said he visited in the area of Rexdale, was very nice, except for a complete lack of lights and benches. With major construction planned to put in the Finch LRT, Harris sees the opportunity to establish a true green corridor. Instead of the low-use and narrow bike lanes Metrolinx has planned along the route of the LRT, he is proposing an expanded network of wide lanes that would allow the use of bike cargo vehicles, and mobility devices. The network would allow residents and businesses easy access to the area without the use of combustion engines. With the establishment of this green transportation network, also would be developed the conservancy agencies to fundraise for and maintain these areas.
"This puts a serious question of management and care," Harris said about the lack of property care in the Finch area. "The intention of conservancy is to have someone responsible for care, rather than have the city do it. That's another benefit here."
What the group has said with their Greenway proposal is that northwest Toronto is an industrial area. There are tanker trucks, and high level traffic and that's important – it's a necessary part of the local economy.
"But we need to have safe pathways to allow people to move and have people move around with their goods and allow businesses to run businesses safely," Harris said. "There are many benefits to having this greenway, and one is environmental. But the other is economical."
Harris explained that everyone from a local plumber delivering service to a butcher delivering product, could use the Greenway paths. And these paths could be in place much more quickly than the LRT project, which has already seen delays.
Mobility in communities across northwest Toronto remains a challenge today, and transit alone won't address the need, say members of the Our Greenway initiative. And it is why businesses, residents and organizations across northwest Toronto have taken an opportunity to come together to re-imagine underutilized spaces and turn them into community assets.
Residents, local businesses, entrepreneurs and Business Improvement Areas across northwest Toronto have expressed concern that construction disruption will cost them, explained the Greenway Teams' website. Residents need access to the local goods and services they rely on and emergency services require a reliable pathway to bypass gridlock and save lives.
A comfortable and wide pathway - a Mobility Greenway – set to be open for use as soon as each section is completed, will provide transformative mobility options that will benefit residents and businesses daily.
So, what would the future look like after building the world's longest practical suburban greenway. What positive impact could it have on the area?
Well, this group has been inspired by a tangible example. The Indianapolis Cultural Trail is managed by a dedicated non-profit. It is a 13-kilometre roadside pathway that runs through downtown Indianapolis. Connecting their core communities, this pathway is protected by about 25,000 square feet of raingardens, which protect from flooding and vehicle traffic all year round.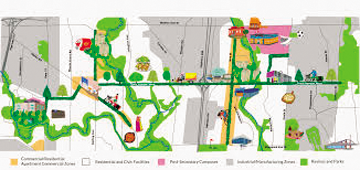 The Greenway group reports that more than $1 billion in economic impact has been generated over the last decade and 95 percent of people felt safe and secure while using the trail, with business owners citing the trail as a distinct advantage for their business.
"Small business revenue and customers have grown, leading to an increase in full and part-time jobs," the group said. "It's a safe, practical design and connectivity to local services and neighbourhoods has made the Trail a heavily used artery. The Trail has increased the sense of community, by increasing outdoor activity and fostering new connections between community leaders, and local businesses."
The Our Greenway plan would deliver economic impact and support the growth of resilient, safe and prosperous neighbourhoods along its entire length.
Residents can learn more, and express their support for the project by visiting the website: ourgreenway.ca