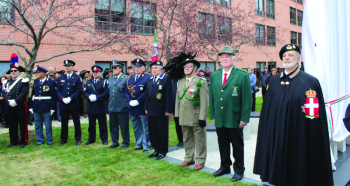 BY SEAN DELANEY
On April 27th, many had the privilege to witness the unveiling ceremony of a new monument for fallen Italian-Canadian workers.
The event coincided with the International Day of Mourning for workers killed, injured or disabled on the job. The memorial is the culmination of a six-year effort to formally recognize Italian workers' enormous sacrifices in the building and industrial development of Ontario.
The memorial has 11 columns that bear the names of identified Italian workers who have been lost since the beginning of the 19th century. The monument is located next to the Villa Colombo Toronto Gardens at 901 Lawrence Ave, West.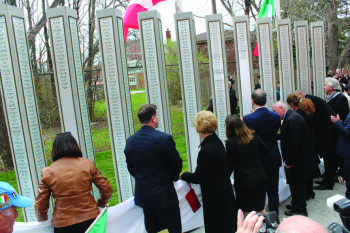 Long time Emery resident Tony Curciarello attended the ceremony with his mother, Rosalba. Tony's uncle Cosimo suffered an untimely death in 1952 at 22, in a freak accident inside a large grain silo.
Many of the estimated 950 attendees of the ceremony all have a story of their own – and our heart goes out to them all.
The event was attended by fallen workers' families and a long list of community and political leaders including MP Judy Sgro and her husband, Sam (also donors), Toronto Mayor John Tory, Minister of International Trade Chrystia Freeland, Transportation Minister Steven Del Duca, Labour Minister Kevin Flynn and Italy's Ambassador to Canada, his excellency Gian Lorenzo Cornado, Villa Charities leaders, union officials and many community members.