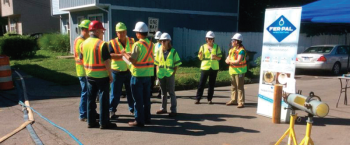 By Sean Delaney
Established in 1986, FER-PAL Construction Ltd. is a trenchless technology company that offers complete water main rehabilitation solutions.
"The business grew doing sewer and water on the private side but shortly realized there was a better business to be had on the municipal side, and strictly on the water delivery side of municipal operations," said Geoff Britnell, Business Development Manager for North America.
It's their trenchless technology that has made FER-PAL unique and positioned them as a leader in Toronto and across North America.
"A lot of companies that are doing this do the typical rip up the road and put a new water main in," Britnell said. "Our leaders early on saw an opportunity for a technology slowly emerging called cement mortar lining."
The innovation saw FER-PAL begin putting a cement coating on the inside of a water main. The method attacks all the rust and dirt that builds on the inside of a water main so installing this coating stops the rust from happening and extends the life of the old water mains. But that was just their first real venture into how to prolong the life without having to rip it up.
"A lot of those water mains still have a lot of years left in them if the city wanted to extend their life without ripping them up," Britnell said. "So after that first tech became successful we looked for new enhancements in the technology of trenchless water main rehabilitation. In the 2000s, we found Cured In Place Pipe (CIPP). That's what we excel in today."
So, the company went from the private sector to the public sector, to new technology and then to another, Britnell said.
The CIPP is the same process as the cement product in that they're making little holes every 150 m or so to put a coating on, but now, instead of installing a coating, they're making a new water main inside the old one.
"We're taking a liner and curing it with an epoxy resin," he said. "It turns it into almost a composite type product, and has the same life span as the product you would put in if you were to rip up the road."
The product has three big advantages. The first is cost savings. It's about 30 percent cheaper than the typical rip up and replacement method. The second is environmental, as it uses 85 percent less CO2 emissions with the biggest reason being the saving of the asphalt.
"Asphalt is very hard on the environment when it's manufactured and installed. So if you rip up the old road, it takes a lot of CO2 to put it back in," Britnell said.
And the third is disruption. As those who live in Toronto will know, there's always a huge desire to limit disruption because of traffic concerns.
FER-PAL can do work in a neighbourhood with little to no notice. Ready to do much of their job at night, if need be.
They've grown to have satellite offices across North America, and three main offices with one in Chicago, one in Detroit, and their main headquarters on Fenmar Dr. Emery Village remains home to all of their research and development, as well as their maintenance and they continue to build all of their own equipment. After they buy a new truck, they fully equip it here in Emery Village, where they employ approximately 45 full-time staff and 100 to 150 seasonal staff.
For more information on the business contact, Geoff Britnell at 171 Fenmar Drive, (416) 742-3713.