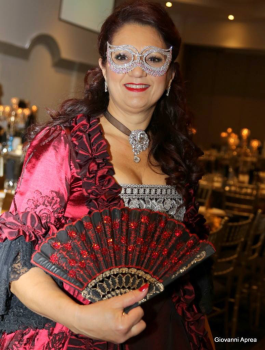 A memorable evening in charity Gala
What an unbelievable event!
The second annual Emery Village Charity Venetian Ball was a great success! The music, the food, and the ambiance; Fontana Primavera had it all. The attendees were greeted at the door by the magical music of Elena, playing on her violin and singing for all to hear. The guests were then led to the right wing where they chose from the exotic assortment of masks and were gifted a gold box donated by Elizabeth Grant at registration. The opulence and splendour of the hall did not end there; inside the main ballroom the glittering candelabras and auction station played with everyone's senses, it truly was a night to remember.
The lively Elvira Caria, master of ceremonies, led the night with grace and always had an entertaining statement keeping the room engaged and cognisant that the Venetian Ball was really about giving back to the charities that are closest to our hearts.To top it all off, the fantastic entertainment provided by the extremely talented Sensation Live Music kept everyone out of their seats and on the dance floor between courses until the venue was shut down!
The night would not have happened without our wonderful sponsors. Here at Emery Village Charities we would like to acknowledge those who took that step and gave wholeheartedly to help the Humber River Hospital Foundation, Friends Helping Sick Kids, Children's Mental Health and local senior's groups.
Our most profound THANK YOU to the following sponsors, we are truly grateful for your encouragement and support year after year.
Thank you to Centennial Sweeping, Terraplan Landscape Architects, Macgregors meat and Seafood Ltd., Emery Village Voice, Accident Support Services International Ltd., Intelligarde International Inc., Medallion Corporation, Village Masonry Works Inc., Elizabeth Grant, Lindvest, Gazzola Paving and Quality Railings Ltd.
We look forward to many more events with you all.
Sincerely,
Sandra Farina
Executive Director