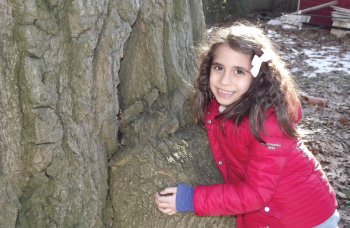 By Sean Delaney
"I saw the tree on TV, and these people wanted to cut it down and I was crying because I didn't want it to happen," said . "I said to my mama, how can I help?"
Nine-year-old Maiolo lives near Emery Village's giant red oak. She has raised more than $2,000 to help preserve the tree by selling lemonade, holding garage sales and going door-to-door, asking neighbours for financial support.
"Trees are treasures, and this one is a big treasure," she said. Maiolo started fundraising for the old oak when she was just six. Her efforts began with the little things she could do safely. Sophia walked door-to-door within the community herself. She set up lemonade stand after lemonade stand, each one doubling as a giant red oak education forum.
"This is the first time I've ever been raising money to save anything," she said from her Emery Village home. "I wanted to save the tree, but I also wanted to tell people about the tree. I felt like if they knew more about it and saw it, they would want to save it too."
Maiolo has also been seen throughout the community giving presentations at the public library and has educated and encouraged friends to get involved by sharing information about the tree with their family and friends.
"I even had a friend present to their class," she said. "It's not just important for us to save this tree, but it's important for all of us to save nature. If we don't have one tree, then we won't have two, and so on. So, I really like sharing and helping."
Today, she sells Tree of Hope bracelets she makes from donated supplies such as gemstones and craft beads — each bracelet has a metal bead stamped with an oak tree and range in price from $5 to $25.
"I thought, why not have the tree on your wrist? Because of this whole coronavirus thing, people are feeling down and want to have this whole bad thing over with. So, I thought, why not have some jewelry and feel good about something?"
You can order your very own Maiolo bracelet at: savethebigredoaktree@gmail.com
Anyone interested can email Maiolo and her family, and they will send a reply complete with pictures of different bracelets to choose from. Once customers have chosen which bracelet they want, they are asked to e-transfer the funds and a bracelet is put in the mail.
And don't forget to share the story yourself, Maiolo said.
"The more people that can get involved, the better."