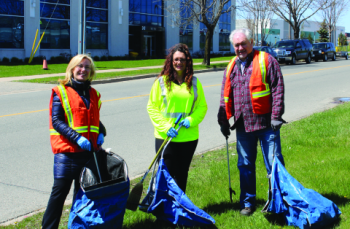 BY SEAN DELANEY
Spring weather looked like an early shoe-in this year given the mild weather this winter.
It was not to be.
It remained cold and snowy through most of April. But that didn't stop the effort of many in Emery to help us put our best foot forward. The city was out in force getting an early jump on the spring cleanup. I joined in the fun and helped clean-up along with the great staff at the Emery Village BIA. We spent the afternoon cleaning up and down Bartor Rd., which is just west of Hwy 400
The 2016 Clean Toronto Together spring clean-up wrapped up on April 23rd. Close to 1,000 events took place across the city bringing together friends, family, coworkers and classmates to clean our parks, laneways and other spaces in need. Working together there were thousands of bags of litter and recycling collected, and everyone helped to keep Toronto clean and green.
The goal for 2016 was 175,000 participants. Here's the final numbers: - 534 schools and 177,914 students & teachers - 328 community events and 10,182 participants - 199 businesses and 5,148 participants
Thank you to all the groups who helped keep Toronto clean and green!
Special thanks to the campaign sponsors and partners: GLAD, CP24, Tim Hortons, Pizza Pizza, Toronto Star, 680 News and the Toronto Park People, With your support, Toronto remains one of the world's cleanest cities.
Hope to see everyone again next year!