By Sean Delaney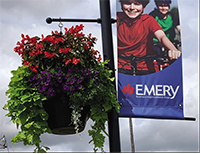 Have you noticed that Emery Village is now in full bloom? Thanks to the Emery Village BIA and more than 3,200 local businesses who assist with the development and beautification of the Emery Village area.
Did you know that approximately 260 hanging flower baskets have been installed around the Emery area? There are 60 large flower boxes, many that adorn the gateways and entrances to Emery, and 50 flag poles that carry the Emery name and Canadian flags strategically placed. There are seven garden walls and flower beds and 29 tree and floral beds. Also, three gateway signs, including custom sidewalks and a colourful roadway pattern and eight roadway medians planted with flowers.
Once again, thank you to all the generous members of the Emery Village BIA that help make this all possible.