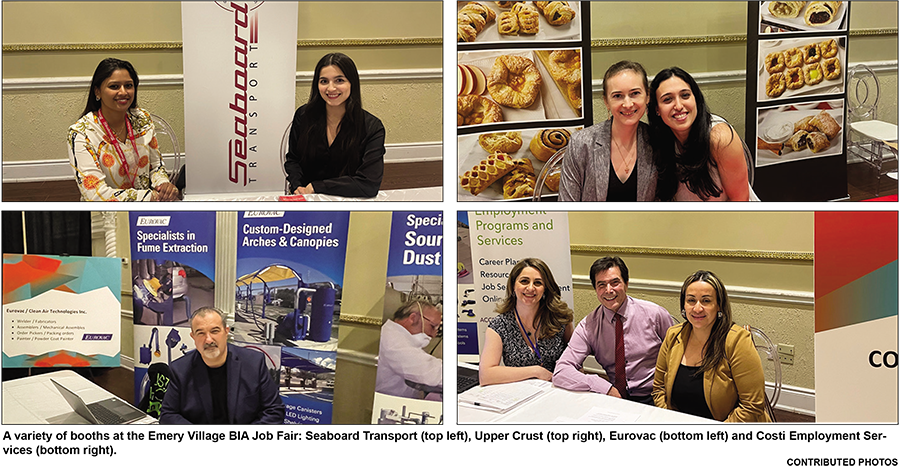 By Sean Delaney
The Emery Village Business Improvement Area (BIA) hosted its first job fair on April 13, with organizers concluding the event was a resounding success. The job fair took place from 1 p.m. to 8 p.m. at the Pinecrest Event Centre.
It was organized to help connect job seekers in the Emery Village area with local businesses looking for new employees. The BIA invited various businesses and BIA members from the surrounding area. All were eager to meet with potential candidates.
Job seekers were greeted by a variety of booths representing different industries, including hospitality, retail, and construction. More than 14 businesses attended, offering hundreds of job opportunities from entry level positions to management roles.
The fair was well-organized, with a team of volunteers assisting attendees with questions. Job seekers could talk with business representatives, learn more about the companies, and submit their resumes directly to hiring managers.
The fair welcomed more than 300 job seekers throughout the day. Many attendees left with job offers or invitations to follow up with the businesses they spoke with. The event also provided a valuable opportunity for local businesses to connect with potential employees and promote their brand in the community.
The feedback from participating businesses was quite positive.
New Era Group, Quality Assurance Manager, Andrew Widla said there was a wide variety of people attending with vast skill sets, and a lot of very capable people to chat with. "The job seekers interactions have been very positive and productive," he said.
Similar comments were made by the team at the Mosaic Transit Group.
"It's been a very busy day for all of us having met with hundreds of job seekers that are interested in construction careers. Today has been such a wonderful experience for us. To be part of this community event, with community organisations working for the betterment of the local economy and its economic growth," a spokesperson said.
Many thanks went out to the businesses that participated in the 2023 job fair including: Cameron Landscaping Inc., Caribbean Island Food Market, Costi Employment Srevices, Eurovac, Ferpal, Metrolinx, Mosaic Transit Group, MulitRes Waterproffing Co., Nella Cutlery Group, Primerica, Seaboard Transport, The Forrest Group, and Upper Crust.
The Emery Village BIA plans to make the job fair an annual event, helping to support both job seekers and local businesses in the area.
The success of this year's event bodes well for the future of the fair, and the BIA looks forward to continuing to connect job seekers with local employers.