Don't forget our giant heart
This is a reminder that until December 14, as part of the LoveTO program, a giant heart will remain at the northeast corner of Weston Road and Sheppard Avenue. We encourage you to take a photo with the heart, post it on Instagram and tag @emeryvillagebia, #showloveTO and #SLTO. People who post photos will be eligible to win gift cards from several shops in the BIA.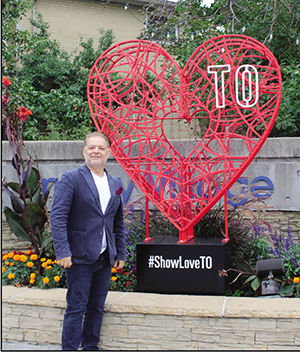 The Emery Village BIA is continuing to organize on-site mobile vaccination clinics for interested businesses in the area with the help of the City of Toronto. The On-Site Mobile Clinic can come directly to your business and vaccinate any staff (first or second dose). Businesses need to have a small space with two chairs for the vaccination, and a separate chair to monitor the vaccinated person for 15 minutes after each dose. To sign up for this free opportunity, view the flyer in the newspaper or visit our website: www.emeryvillagebia.ca/TOvaccineclinics
The colder months are approaching as we get closer to the winter holidays.
Remembrance Day this year will be different because of COVID-19. There will be no public gathering in the park due to safety protocols. There will be a commemorative wreath at Joseph Bannon Park and if you decide to visit, we encourage you to wear masks and social distance.
We hope you are continuing to stay safe as the colder weather approaches, and we look forward to planning more community events in the future.
Sincerely,
Sandra Farina
Executive Director