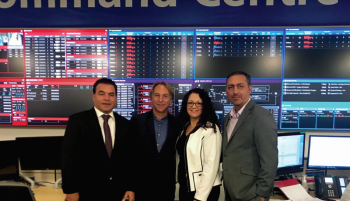 Emery Village BIA Continues to Invest in the Health of the Community
By Sean Delaney
This past November, the Emery Village BIA made its second donation in support of the Humber River Hospital. Due to the generosity of its members, the BIA are proudly donating $150,000 to the Child and Adolescent Mental Health Program at Humber River Hospital. This donation is a genuine group effort—funds were primarily raised through members sponsoring and buying tickets for events. It's a testament to the difference local businesses can make when they work together to support the health of our community.
How the support will make a difference
Since the new Humber River Hospital opened in 2015, its Emergency Department has become the busiest single-site ED in Ontario, with one of the largest—and recurring—demands coming from mental health patients. The Hospital is responding to this demand in a variety of ways, including offering enhanced programming and improved access. One recently expanded program is the Child and Adolescent Urgent Care Clinic. Staffed with a social worker and psychiatrist, the clinic extends the care of young and vulnerable patients, supporting them beyond discharge from the Hospital, seven days a week.
Why the BIA supports Humber River
The Humber River Hospital holds a special place in many of the members' hearts. Humber River is the community hospital—whether turned to for help in sickness or to welcome babies to families and the community. Like the Hospital, the members understand that in order for a community to thrive, it must be healthy.
Heartfelt thanks from the HRH Foundation
"It's because of the generosity of donors like the Emery Village BIA that we're able to support our diverse and growing community with the exceptional, family-centric care it deserves," said Colleen Albiston, Humber River Hospital Foundation President & CEO. "We are so grateful that your gift will help us better serve our young mental health patients, offering them support at the hospital and connecting them to other community resources to help them avoid or manage future crises. Thank you, Emery Village, for helping us meet the needs of our shared community."
Emery Village BIA/HRH Donation History
Emery Village is the only BIA in Ontario with a charitable arm. the engaged and generous members prioritize giving back to the community and help it stand apart.
The first donation of $100,000 to the Humber River Hospital is recognized with signage in the Family Kitchen and Lounge on the Hospital's Maternal and Child floor. This initial donation was made in memory of Maggie Sanderson, an Emery Village BIA member and business owner who advocated tirelessly for single mothers in the community. Sanderson's commitment and generosity inspired an expansion of the BIA mandate to include the support of local charities.
The impact of the most recent donation of $150,000 will be recognized with a sign in the group lounge within Humber River's Child and Adolescent Mental Health unit.