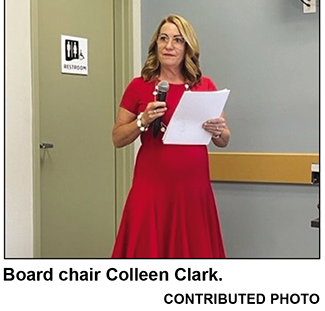 By Sean Delaney
Are you curious about the innovative nurse practitioner led model of healthcare? I attended the annual EKNPLC Open House on July 4th, and found an engaging evening of networking, knowledge-sharing, and light music entertainment. The event offered a unique opportunity to connect with local leaders, organizations, and healthcare professionals while learning about the groundbreaking nurse practitioner-led approach to healthcare.
During the open house, attendees gained insights into the comprehensive and patient-centered care provided by nurse practitioners. These skilled healthcare providers are increasingly vital in delivering quality healthcare services to communities worldwide.
The event featured informative presentations by Board Chair Colleen Clark and Danae Pearl, highlighting the unique elements of the nurse practitioner-led model and its benefits and positive impact on patient outcomes. We heard how dedicated professionals collaborate with healthcare teams, patients, and community organizations to provide holistic care that addresses individual needs and promotes overall well-being. MPP Tom Rakocevic also spoke passionately about some of his family's serious healthcare issues during his lifetime and conveyed his feelings of compassion and thankfulness for serving the community and the dedication of the EKNLPC team.
In addition to the enriching knowledge-sharing sessions, the talented DJ Joshua Lucas treated the EKNPLC Open House to light music entertainment.
So, if you require more complete, comprehensive, and caring healthcare, reach out to EKNLPC, call, or drop by, book an appointment, and help celebrate the nurse practitioner-led model and its commitment to fostering a healthier and happier society.