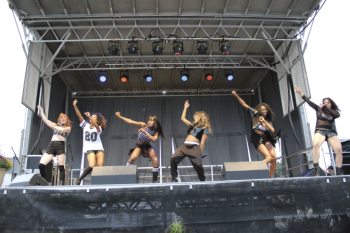 BY SAYADA NABI
On September 12th, what once was an empty field of grass was filled by a large stage, mechanical rides, a big truck of reptiles and an array of tents serving up mouthwatering food. Despite the cool fall weather the Emery Village BIA hosted its third annual Emery Fest, warming up the grounds of 135 Plunkett Rd.
According to organizer Tony D'Aversa, chair of the BIA marketing committee, the event was held in the Humber Summit community because, "it is commonly known as the forgotten corner of Toronto, and that's why hosting it here is so important."
Emery Fest focused on bringing the community together through food, entertainment and attractions for both kids and adults.
"The festival was made possible due to the leadership of Sandra Farina, the Executive Director, along with the a great staff at the Emery Village BIA , they did a fabulous job," D'Aversa said.
The day began with an early morning visit from Mayor John Tory, who was given a tour of the grounds from Ward 7 Councillor Giorgio Mammoliti. The Mayor welcomed all to the Festival, wished everyone a great day and thanked Councillor Mammoliti for his wonderful contributions at Toronto City Council and for always working with fervor and passion for the betterment of the Ward 7 and Emery Village community.
Food is a huge part of any outdoor celebration, and Emery Fest did not disappoint. The air was filed with a melody of smells from Italian sausages and Mediterranean kabobs to delectable desserts such as funnel cakes. Marissa Abbattista, from Domenic's Quality Meat was enthusiastically grilling some sausage and steak, and enjoying the music.
"I love to see the people so excited, and I like being with the community," she said. Domenic's Quality Meats has been a staple at the festival since its inception, serving up hot and fresh meats to attendees.
First time attendee Carmen Catalano was one of the many people enjoying a stick of shish kabob while strolling through the festival grounds with her little dog.
"My dad brought me here," she said, "It's really great. I will definitely come back next year."
Some more new faces at the festival included Andrew Amorim and his team from the Swiss Chalet at the corner of Arrow Road and Finch.
"It looks like a great turn out. We are here to create awareness of our location as we will hit our four year anniversary this January," he said. Similarly to Catalano, Amorim intends to come back next year as well.
The best accompaniment for any food is a nice glass of wine, or a cold brew, so there were cool libations as well. On the far side of the park, away from the kids, a big tent was set up for wine sampling and beer tasting with products from Colio Estate Wines and Nickelbrook Breweries.
In addition to the delicious food and drinks, there were hourly prize draws, with winners receiving gift cards from the Keg, soccer apparel from Trento Kia, free wings from Wingporium, tickets to Toronto FC games and even a getaway from Holiday Inn Express.
The rides for children, bouncy house and a reptile truck were great sources of entertainment. The 45-foot Reptilia event trailer was home to a boa constrictor, black and white tengu, and even a speckled caiman crocodile. Nick Lambert and his partner Blair Watson were decked out in their safari suits, educating everyone that came around the truck about the reptiles behind the glass windows. Lambert introduced his favourite reptile, a cape monitor named Stanley, a cousin to the Komodo Dragon, to captivating crowds.
The live musical entertainment continued all day, with international talents. There was an accordion player, a Michael Jackson impersonator (Antonio Armata), an Italian folk chorus and even a Mariachi band. The stage began to heat up with hues of green and orange with Brazilian dancers Samba Heat from Las Brisas and pop artist Chrystina Sayers. Sayers was a part of the Girlicious, but is now a solo artist who is set to release her EP this fall. She entertained the crowd with her new single "Feel Lit."
The festival was more than just food and entertainment it was also about giving back to the community. Trento Kia's Ryan Davidson was creating brand awareness for Kia, as well as handing out soccer gear as part of the 2015 Drive Change initiative. Drive Change is Kia Canada's effort to make a positive change in communities throughout the country.
"We are here to promote Drive Change, helping the underprivileged members of the community," Davidson said. This year they are collecting soccer equipment until the end of September.
According to D'Aversa, the event was created with one thing in mind: giving back.
"Giving back to the community is number one for the BIA," he stressed.
We will continue to do this year after year as the festival grows. "Next year we want to make the festival even bigger and better,"
The BIA wanted to thank all of the sponsors of the event including the major sponsors, Colio Wines, Kia Trento, Holliday Inn Express, Las Brisas Night Club and Nickel Brook Brewery.