By Sean Delaney

The sun was shining and temperatures hit 32 Celsius on June 28th. It was a near-perfect day to nab your first or second dose of the Moderna or Pfizer vaccine at Emery Collegiate Institute (C.I.).
TDSB Trustee Christopher Mammoliti, Emery C.I. Principal, Maria Palermo and Al Ruggero, project manager at the Emery Village BIA greeted people. Lines ups for the vaccine were steady and grew as the afternoon progressed. Pop-up clinics are the picture of military preparedness and organization, from a group of nurses mixing and preparing the vaccine to marshals and monitors keeping lines moving. Gratitude must be given to the Humber River Hospital mobile vaccine staff members.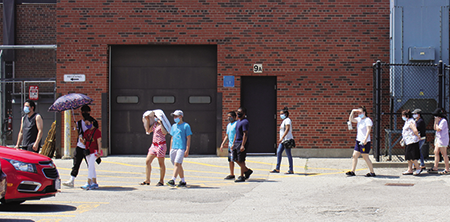 And in a surprise ending, Sandra Farina and the Emery Village BIA arranged an ice cream truck and free treats for vaccine recipients.
Toronto is 77 percent vaccinated for the first dose and now sits among some of the world's top vaccination numbers.
Well done Toronto.