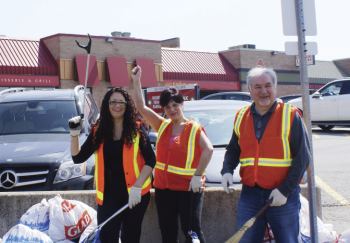 By Sean Delaney
I took a long drive around Emery Village on Friday, April 17th looking for major collections of trash around our fine village. I was pleasantly surprised to note that the overall area was in pretty good shape.
I checked out five of the larger parks as well as some of the industrial streets that would be likely offenders but again they looked pretty good. The City was obviously out in force getting an early jump on the spring cleanup. I joined in the fun and helped cleanup with some local businesses as well as the great staff at the Emery Village BIA Sandra Farina, Al Ruggero, Luisa Di Santo and I spent the afternoon cleaning along Finch Ave., between Arrow Rd. and Weston Rd.
The 2015 Clean Toronto together spring clean up wrapped up on April 17-19. Close to 1,000 events took place across the city bringing together friends, family, coworkers and classmates to clean our parks, laneways and other spaces in need of help. Working together we collected thousands of bags of litter and recycling and kept Toronto clean and green.